by Tom Jenkins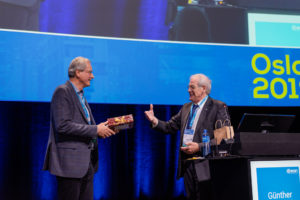 The last day of the Congress and time to take stock. Kjell Morten Myhr summarised the field of multiple sclerosis (MS), which received 205 abstracts. Professor Myhr started his highlights with papers by Persson et al from Lexington reporting longitudinal observational survival data in MS and Stahmann et al from Hanover who reported variable rates of starting disease-modifying therapy. Professor Myhr considered that these papers together pointed toward a need to start MS therapy early. Prognostic blood biomarkers were then considered with vitamin D shown to predict long-term disability (Wesnes et al, Trondheim), whilst neurofilament light chain was associated with development of cognitive impairment in secondary progressive MS (Kuhle et al, Basel). Cortical lesion volume at baseline predicted secondary progression and brain atrophy in another study (Scalfari  et al, London). Some reassuring data were reported from Ruffer et al, Brighton who investigated rates of human papilloma virus infection and cervical dysplasia in patients treated with alemtuzumab and found they were similar to the general population. Tsantes et al from Parma investigated whether gadolinium was still necessary following the gradual move towards new T2 lesions in diagnostic criteria; gadolinium contributed when T2 did not in a minority of 1.3% patients. The risk of cancer in MS patients remains debated with Grytten et al, Bergen showing a 14% increase in relative risk of all cancers, whereas Norgaard et al, Aarhus found no increase in risk in a Danish population. Nozzolillo et al, Francolise investigated lymphocyte changes following treatment with rituximab and ocrelizumab and found greater T cell depletion with ocrelizumab therapy. The session concluded with two exciting results: siponimod was shown to improve cognitive processing speed in patients with secondary progressive MS (Benedict et al, Buffalo, and. Cree et al, San Francisco reported that inebilizumab was effective at reducing relapses in neuromyelitis spectrum disorder, compared to placebo (HR 0.27 (95%CI 0.15-0.50, p<0.0001).
Next was movement disorders and 853 abstracts were whittled down to nine by Ole-Bjorn Tysnes. The genetic cause of CANVAS syndrome which comprises cerebellar ataxia, sensory neuronopathy and vestibular failure was identified by Cortese et al, and is due to a repeat expansion in the RFC1 gene. This appears a frequent cause of late-onset sporadic ataxia, especially if neuropathy is also present (63% in their cohort). Gaare et al investigated rare genetic variants, pathways and their contribution to Parkinson's disease (PD); mitochondrial maintenance pathways appear important, supporting a role in apparently sporadic PD. Opicapone is a new medication that appears well tolerated and effective compared with placebo in PD; Ferreira et al compared it to entacapone and found a superior effect on "off" time. Avenali et al followed up presymptomatic GBA mutation carriers for 6 years and found that prodromal features of PD developed; interestingly, prevalence also increased to a lesser degree in the healthy control group. Giuliano et al investigated sleep-related movement disorders in epilepsy; 73% had at least one sleep disorder and 31% more than one. Bruxism, and periodic movements of sleep were especially common. CSF neurofilament light chain was assessed in atypical Parkinsonian syndrome patients by Salvesen et al and high levels in multiple systems atrophy were found. Facheris et al investigated subcutaneous levodopa in PD in a phase 1 study (ABBV-951), which was shown to be safe with few skin reactions. Hustad et al reported survival data from the Trondheim cohort of 521 PD patients. The risk of early death was doubled compared with healthy controls and was higher still- five times- in younger patients. Cognitive impairment was associated with worse survival. Fifty percent survival was observed at approximately 13 years. Sinai et al investigated MR-guided ultrasound thalamotomy as a treatment for in essential tremor in 55 patients.  The procedure was reported to be safe, with mild and reversible side effects, and a therapeutic effect on tremor was observed which lasted 5 years in most patients; benefits in quality of life were demonstrated.
Headache highlights were reviewed by Erling Andreas Tronvik from Trondheim. Anti- calcitonin-gene-related peptide (CGRP) therapy related papers were prominent (Lipton et al, Ashina et al and Oakes et al all reported benefits). New guidelines recommend consideration of anti-CGRP therapeutics in episodic or chronic migraine which has failed at least two standard treatments, and can be given before or after withdrawal of regular prn medication contributing to medication-overuse headache. Contraindications are pregnancy or breast-feeding, cardiovascular disease, mental health disorders, alcohol or drug abuse. Goadsby et al showed that atogepant was safe and effective in a phase 2b/3 study. Doty et al presented encouraging pooled data from two clinical trials on lasmiditan, a selective 5HT-1F receptor agonist, which has the advantage of not causing vasoconstriction. Real-world data were reported from the German PANORAMA study which showed that 42% of migraine patients were treated with prophylactic agents. Cormorbidities were reported as the most important factor in choice of agent by clinicians. Bjork et al from Bergen reported observational data from the NorMIG cohort that 22% of 344 419 people used migraine propylactics, and the proportion continuing on the various agents was assessed. From these real-world continuation and efficacy data, candesartan appeared particularly effective. Messina et al reported an imaging study of patients with cluster and migraine headaches. A machine-learning approach demonstrated diagnostic accuracy of 73% in a cluster headache versus migraine analysis. Rarer headaches conditions were considered. Epicrania fugax described as syndrome of short-lasting stabs of pain in various nerve distributions, usually unilateral (in 86%). Spontaneous remissions occur in 31%, and autonomic features in 32%. Lamotrigine was the most frequently used agent. The summary concluded with an interesting case report from Robblee et al, who reported a case of red ear syndrome which responded to anti-GCRP therapy with erenumab.
Cerebrovascular diseases were presented by Anne Hege Aamodt, from Oslo, the President of the Norwegian Neurological Society. Changes to classification were first discussed, then data on smartphone apps as an educational tool for stroke prevention (Feigin et al). The Brown-Sequard lecture by Ulrich Dirnagl and data on neuroinflammatory responses to stroke reported in the plenary session by Guido Stoll were highlighted (previously reported in detail this month in EAN Pages). Data on young stroke from the focused workshop (De Leeuw, Nijmegen) reported a 50% cumulative lifetime recurrence risk (5% in the first year then reducing) and highlighted that secondary prevention has not yet been formally investigated in this group, specifically whether to continue or withdraw preventative therapies after a few years; more research is needed. Data on pre-hospital investigation of patients with large vessel occlusion from Akershus Hospital in Oslo showed that no assessment scale predicted large vessel occlusion with sufficiently high sensitivity and specificity to be generally applicable to all patients. Didier Leys' group from Lille assessed rates of mechanical thrombectomy in different districts and found variation in practice that was not fully explained by delays. In various European studies, thrombectomy rates varied between 31- 81 per million inhabitants (the latter, highest reported rate to date from the Lille group). Goeldlin et al from Bern investigated Intracerebral haemorrhage, performing a meta-analysis of haematoma volume in patients using oral anticoagulants. Both volume and mortality higher appeared higher with warfarin than with direct oral anticoagulants (DOACs). Zuurbier et al investigated 9195 patients with upruptured intracranial aneurysms patients and found higher rupture rates in women (1.1%/ year) compared with men (0.7%/year). Idicula et al reported data on stroke mimics from their tenecteplase trial. Stroke mimics were found in 32% of young patients (mostly migraine and psychosomatic disease) and 13% of older patients; bleeding rates were very low if mimics were thrombolysed. Finally the benefits of hunting for atrial fibrillation in cryptogenic stroke were highlighted, with implantable monitors identifying occult AF in a quarter.
Erik Tauboll concluded the highlights session with a summary of epilepsy. Neuroinflammation was a prominent theme, in keeping with the overarching theme of the Congress. It was pointed out that this might explain why 30 percent of patients are still not seizure-free despite the introduction of 30 new epileptic drugs over last 30 years. Prof Vezzani's plenary lecture was highlighted, and data from Iori et al which demonstrated that anti-inflammatory drugs block disease progression in animal models. In the focused workshop, Heuser et al, Oslo demonstrated an important finding from their mouse model that glial cells were activated before neurons when a seizure was generated. Aronica et al, Amsterdam showed that astrocytes are a prominent source of cytokines and a key regulator in neuroinflammation after status epilepticus. Bedner et al, Bonn showed that hippocampal glia from temporal lobe epilepsy patients lack gap junction coupling, and that, in mice, Xpro1595, an agent which acts on tumour necrosis factor alpha pathways, reduced seizure frequency. Zebra fish data from Myren-Svelstad et al supported these observations with glia observed to activate neurons through glutamate and gap junctions in their model. Micro-RNA biomarker papers from Ferreira et al and Leal et al were mentioned. The highlights session concluded with a practical reminder from the teaching course (Cock et al), of the importance of following guidelines for treatment for convulsive status epilepticus. Real world data show that this still does not occur yet patient outcomes are highly dependent on timely treatment with early benzodiazepine (<10 mins) followed by an adequate dose of an appropriate anticonvulsant.
Following the highlights presentations, Johannes Levin presented late-breaking news on the PROMESA blinded placebo-controlled trial of epigallocatechin gallate (EGCG), found in low levels in green tea, identified to act as a synuclein inhibitor in higher doses, and trialled for multiple systems atrophy (MSA). Patients were assessed at 7 visits over year, the primary outcome was change in unified MSA rating scale motor examination scores, and MRI was applied as a secondary outcome. One hundred and twenty-seven patients were screened, 92 enrolled, and 63 completed per protocol. Patient and control groups were matched. Elevated liver function tests were seen in 17% of the treated group including two severe cases which necessitated stopping the study drug. There was no statistically significant difference in disease progression, although less atrophy of deep grey matter structures on MRI was observed. It was concluded that MSA appears an effective model for assessment of synucleinopathies.
Finally, presentation prize winners were announced by Professor Deuschl. Sverre Myren-Svelstad was the winner of the tournament for neurologists in training for work on glial-neuronal interactions in epilepsy. Runners-up were Victoria Chelban and Heather Wilson.
In the clinical category, the winner was Alberto Vogrig for work on characteristics of the anti-Ri antibody-associated syndrome. Runners-up were Marion Moseby-Knappe and Gennaro Pagano.
Thanks were given to the local organising committee and the EAN head office in Vienna for an excellent Congress.