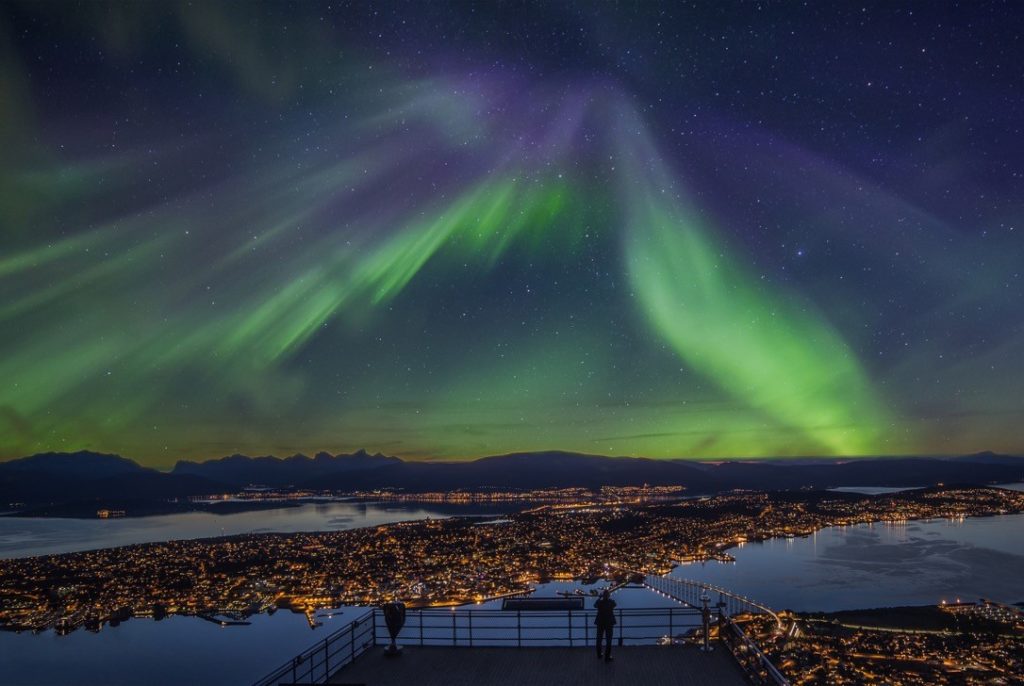 Norway is located in the western and northern part of Scandinavia, and it is well known for its beautiful scenery with fjords and waterfalls along the coastline, its mountainous wilderness, and for Arctic regions with northern lights in the winter and midnight sun during the summer. Norway is one of Europe's most sparsely populated countries with 5.2 million people in a land area of 385,802 km2. The most densely populated area is around the city of Oslo in the south-east of the country. Oslo, the Norway's capital, is the fastest-growing capital in Europe.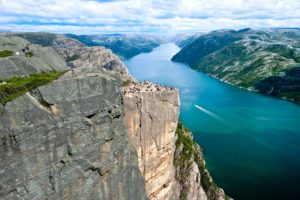 The Norwegian health care system is founded on the principles of universal access and decentralisation. All Norwegian citizens are invited to choose their general practitioner (GP) from a list, which almost everybody does. GPs act as gatekeepers for specialist health service. The specialist health service is organized in four Regional Health Authorities including more than 50 hospitals. Most hospitals in Norway are public and only a small number is private.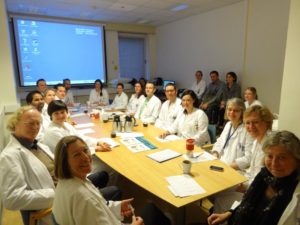 Picture from the morning meeting at Oslo University Hospital Ullevål. From the left and clockwise around the table – Chantal Tallaksen, Espen Dietrichs (Head of the Department), Julia Henriksen, Ryaz Yaseen, Katrine Ellefsen, Fredrik Pande-Rolfsen, Erik Eriksen, Lasse Ormel, Alexandra Åkerblom, Anette Andersen, Åshild Skardhamar, Pål Berg Hansen, Lars H. Alteheld, Angelina maniaol, Elisabeth G. Celius, Hanne Harbo, Sigrun K. Brækken, and the in the corner Stine Knudsen (from the Competance Center for ADHD, TS and narcolepsy) and to the right Siri Kristine Rydning, Reinhard Niestroj, Jutta Rummel and Else Charlotte Sandset.
We have four medical universities in Norway, including the University of Oslo, the University of Bergen, the Norwegian University of Science and Technology in Trondheim, and the University of Tromsø, overall including totally 3,900 students. Moreover, there are more than 3,300 Norwegian medical students studying abroad. The education to become a professional physician in Norway takes six years and leads to a Candidate of Medicine-degree which is equivalent to Doctor of Medicine. The programme includes extensive clinical service that covers a wide range of patients, from primary health care in Norwegian municipalities to centralised specialist hospital departments, and from emergency medicine to caring for chronically ill patients. Most of the teaching at the universities, including the lectures, is done in Norwegian language. However, most of the medical textbooks are in English, although a few are in Norwegian, especially in Neurology.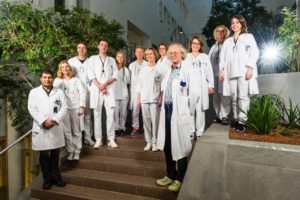 The staff at the Department of Neurology Oslo University Hosptial, Rikshospitalet: Ahmed Elsais, Marion Boldingh, Kjell Heuser, Matteus Jannicki, Kristine Stø, Leif Andre Oksum, Sara Maria Allern, Merethe Lyngstad, Espen Dietrichs (Head), Anne Hege Aamodt (President of NNA), Torhild Warncke and Ragnhild Berling Grande.
Neurology is an important medical specialty in Norway, with 510 specialists in neurology – giving a ratio of one neurologist per 10,000 inhabitants. There are clinical neurological departments in as near all of 19 counties, taking full care of all aspects of common conditions such as epilepsy, movement disorders, multiple sclerosis (MS), and stroke. The health service is organised in effective regional systems with expertise distributed nationally in Competence Centers and Competence Service Centers. In neurology, as in many other specialities, there is a close relationship between clinical work and basic science.  We also have a research school – The Norwegian Research School in Neuroscience – that works to coordinate and improve educational activities for PhD candidates in neuroscience in order to enable the next generation of neuroscientists to face the great challenges and opportunities in the field.
The neurology residency program in Norway starts after the Candidate of Medicine-degree, and it has traditionally been a 5-year service including at least 3.5-year training at a department of neurology, and ½ year at a neurosurgical department. Up to one of a total of five years may be substituted with relevant research or training at another relevant laboratory or hospital department. The specialist training for all the 45 medical specialities in Norway are currently reorganized, and from 2017 the education will be based on learning targets. However, the specialist training and education in neurology will probably not be extensively changed. Most of hospitals take part both in teaching of medical students and specialist training in medical specialities.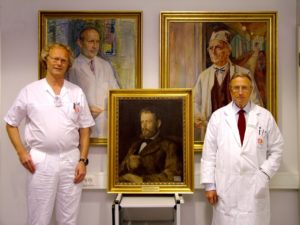 The five Head of Department of the Neurology at Rikshospitalet (Oslo University Hospital) from the beginning in 1895: Present Head of Department of Neurology – Espen Dietrichs (2001-), Sigvald B. Refsum (1954-1977), Christopher Blom Leegaard (1895-1921), Gerhard Monrad-Krohn (1922-1954) and Rolf Nyberg Hansen (1977- 2000).
The retiring and the comingPresident of the World Federation of Neurology in 2005 – Prof. Jun Kimura and Prof. Johan Aarli.
Norway has longstanding traditions in neuroscience and clinical neurology. Rikshospitalet (The National Hospital) in Oslo got its first full clinical professorship in neurology already in 1895, possibly being the second full chair of neurology in the world. A few years ago Rikshospitalet was merged with the other large hospitals in Oslo to form the Oslo University Hospital, with only one Department of Neurology. This department is operating at two sites, serving local and regional as well as some national functions, and with active research within areas like MS and movement disorder genetics, deep brain stimulation, epilepsy, myasthenia gravis, cerebrovascular diseases, headaches and neuropathies. Most of early and extensive brain research has been related to studies of the brain and nervous system structure and function. "The Oslo School of Neuroanatomy" at University of Oslo was famous for mapping brain stem and cerebellar neural pathways in the second half of the twentieth century. In more recent years the so far highlight for in Norwegian neuroscience was the Nobel Prize in Physiology or Medicine that was awarded May-Britt and Edvard Moser in 2014 for their basic work on sense of place. Other main research activities in neuroscience in Norway include large epidemiologic studies including different neurological topics such as MS, cerebrovascular diseases, Parkinson's Disease and headaches. Also, clinical research in stroke, MS, Parkinson's Disease, epilepsy, dementia, muscle disorders and psychiatric disorders has distinguished itself relatively strongly internationally. Furthermore, the research on psychological environments and brain functions, pathological conditions related to stress, abuse and aging can also be highlighted. Norway has also been active in international neurological organizations and has held the presidency twice in the World Federation of Neurology with Sigvald B. Refsum as the third president (1973-1981) and Johan Aarli (2005-2009).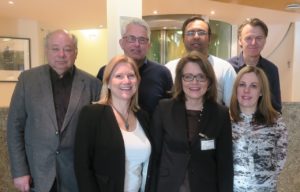 Back from left: Guttorm Eldøen, Kjell-Morten Myhr (Vice-Presidet), Kashif Faiz, Geir D. Slapø. In front from left: Kari Anne Bjørnarå, Anne Hege Aamodt (President), Ida Bakke.
The Norwegian Neurological Association (NNA) is the member organization for neurologists in the Norwegian Medical Association and was founded in 1920. Almost all neurologists in Norway are members in NNA and the number of members is now 685, 52 % of them being women. Dr. Anne Hege Aamodt is the current NNA president. Each year the board of the NNA organize a National Meeting (in Norwegian: "Nevrodagene") lasting for five days in week 11. The NNA has its own journal called "The Axon" (Norwegian: "Axonet") that brings political and cultural posts and news from the borderland between neurology, art, and history. The NNA has especially excelled in public work with information campaigns – the Year of the Brain in 1995 and 2015, the annual Brain Awareness Week and continuous work to strengthen the prioritization of brain diseases and neuroscience. The cooperation with the Norwegian Brain Council has been important to many of the achievements in the political work. We are very grateful for having been selected for EAN 2019 in Oslo.
We wish you all welcome to Norway and EAN 2019 in Oslo!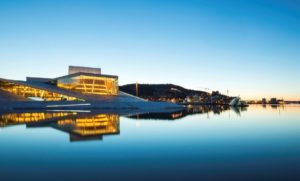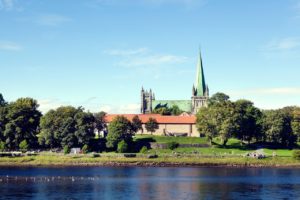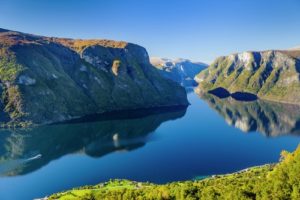 Dr. Anne Hege Aamodt, President of the Norwegian Neurological Association, Oslo University Hospital
Prof. Kjell-Morten Myhr, Vice President of the Norwegian Neurological Association, Haukeland University Hospital
Prof. Espen Dietrichs, Head of the Department of Neurology, Oslo University Hospital
Please read articles by Norwegian authors  published in the European Journal of Neurology here.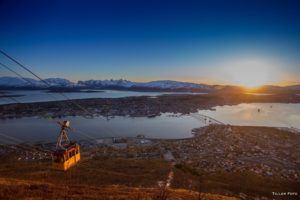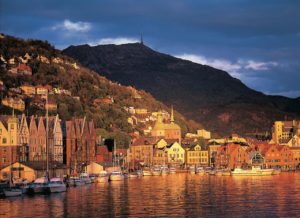 Accredations:
Picture: "Northern light over Tromsø" – Accreditation: «Truls Tiller, visitTromso.com"
Picture: "Midnight sun over Tromsø" – Accrediatation:"Yngve Olsen Sæbbe, visitTromso.com"
Picuture: The Nidarosdomen Cathedral in Trondheim – Accreditation: "VisitTrondheim.com
Picture: "The Pulpit Rock) and the Lysefjord (Lysefjorden)" – Accrediation: "Terje Rakke/Nordic Life/regionstavanger.com"
Picture: "Bergen Harbour at sunset" – Accreditation: "Willy Haraldsen – visitBergen.com"
Picture: «Aurlandsfjord" – Accreditation: "Bergen Tourist Board / Robin Strand – visitBergen.com»
The Opera in Oslo: Accrediation «VisitOslo.com