EFNA goes global and attends the WHA – World Health Assembly
UN Geneva Headquarters from May 20 – 28 2019.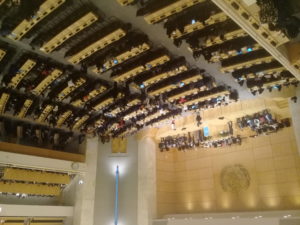 Diseases know no borders. Only by truly pooling our resources and going beyond our individual disease areas, our constituencies and countries, do we stand a chance of adequately addressing the challenges of ill-health and inequalities. This is particularly true in an age where the greatest majority of premature deaths are attributable to non-communicable disorders (NCDs). It is increasingly clear that global priorities actively shape the policy at the EU and country level. Therefore, since 2018 EFNA has started a strategic process of aligning its agenda with global priorities addressing predominantly NCDs, Sustainable Development Goals (SDGs) and Universal Health Coverage (UHC).
We recognize that the neurological community now has a unique window of opportunity: in the 2018 UN Political Declaration on NCDs, mental health (including neurology) was added as so called 5th NCD, on top of cancer, CVD, diabetes and Chronic Respiratory Diseases that for a decade were constituting key global priorities. However, WHO approach regarding mental health that shall include neurology is ambiguous and it is important for a neurological community to demand more priority and visibility given to neurological health in this context.
To do this, we also need to increase our presence at WHO meetings. For this reason, EFNA's Senior Advocacy Coordinator Tadeusz Hawrot attended parts of the World Health Assembly (WHA) that took place in the UN Geneva Headquarters on May 20 – 28 2019. This included a dedicated session where member states discussed NCDs related priorities, a number of side events as well as individual meetings with various stakeholders in attendance.
At the Assembly, EFNA endorsed a joint statement co-signed by various NGOs calling WHO and member states to strengthen their response to address NCDs which are currently not sufficiently included in global priorities.
In terms of WHA relevant outcomes, patient safety was recognized as a global health priority and the 11th Edition of the International Classification of Diseases was adopted. Countries agreed three resolutions on UHC with a focus on primary healthcare, the role of community health workers and the High-Level Meeting on UHC in New York in September 2019.
The WHA is the decision-making body of WHO. It is attended by delegations from WHO Member States (193 countries) and focuses on a specific health agenda prepared by the Executive Board. Its main functions are to determine the policies of the Organization, appoint the Director-General, supervise financial policies, and review and approve the proposed programme budget. The Health Assembly is held annually in Geneva, Switzerland.
For more information please contact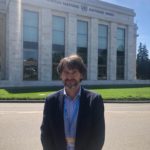 Mr T. Hawrot – Senior Advocacy Coordinator at advocacy@efna.net