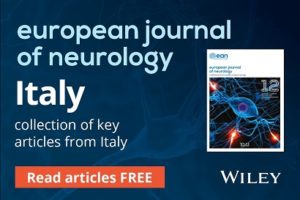 Please find below articles from Italian authors that were published in the European Journal of Neurology.
European Stroke Organization guideline for the diagnosis and treatment of cerebral venous thrombosis – endorsed by the European Academy of Neurology  by J.M. Ferro, M.-G. Bousser, P. Canhao et al.
ECTRIMS/EAN guideline on the pharmacological treatment of people with multiple sclerosis by X. Montalban, R. Gold, A.J. Thompson et al.
European consensus for starting and stopping enzyme replacement therapy in adult patients with Pompe disease: a 10-year experience by A.T. van der Ploeg, M.E. Kruijshaar, A. Toscano et al.Y. K.; Vissing, J.; Schoser, B.
Efficacy of pallidal stimulation in isolated dystonia: a systematic review and meta-analysis by E. Moro, C. LeReun, J.K Krauss et al.
Cerebral small vessel disease, medial temporal lobe atrophy and cognitive status in patients with ischaemic stroke and transient ischaemic attack by F. Arba, T. Quinn, G.J. Hankey et al.
Identification of multiple sclerosis patients at highest risk of cognitive impairment using an integrated brain magnetic resonance imaging assessment approach by T. Uher, M. Vaneckova, M.P. Sormani et al.
Default mode network changes in multiple sclerosis: a link between depression and cognitive impairment? by  S. Bonavita, R. Sacco, S. Esposito et al.
The PRIAMO study: urinary dysfunction as a marker of disease progression in early Parkinson's disease by M. Picillo, R. Palladino, P. Barone et al.
Survey of diagnostic and treatment practices for multiple sclerosis in Europe by O. Fernandez, M. Delvecchio, G. Edan et al.
European Association of Nuclear Medicine and European Academy of Neurology recommendations for the use of brain F-18-fluorodeoxyglucose positron emission tomography in neurodegenerative cognitive impairment and dementia: Delphi consensus by F. Nobili, J. Arbizu, F. Bouwman et al.