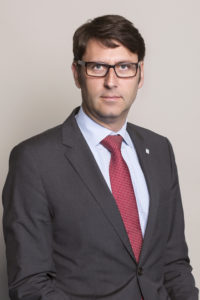 By Tim Von Oertzen
For January 2020 we have selected Kapur J et al., Randomized Trial of Three Anticonvulsant Medications for Status Epilepticus, N Engl J Med 2019;381:2103-13. DOI: 10.1056/NEJMoa1905795
Generalized convulsive status epilepticus (CSE) is a serious, potentially life threatening condition which requires medical intervention. Evidence for first line treatment was shown for benzodiazepines, mostly in out of hospital settings. Although, this controls up  to two thirds of CSE, the remaining third is benzodiazepine refractory and requires further treatment. There is little to no evidence on the choice of further antiepileptic medication. The most commonly used drugs are levetiracetam, valproate and fosphenytoin, with only the latter being approved by the FDA for treatment of CSE in adults and none in children. In Europe, phenytoin and phenobarbital are labelled for this indication in adults and children, although this might vary between European countries.
This prospective, multicenter, randomized, double-blind, adaptive comparative-effectiveness trial investigated levetiracetam, valproate and fosphenytoin in benzodiazepine refractory CSE. CSE was defined as generalized seizures lasting more than 5 minutes in patients of 2 years of age or older. CSE was regarded benzodiazepine refractory, if a minimum dose of 10 mg diazepam, 4 mg lorazepam or 10 mg midazolam were administered intravenously or alternatively rectally (diazepam) or intramuscular (midazolam) and seizure activity continued or recurred during the period of 5 minutes after and no more than 30 minutes after the last benzodiazepine dose. Dosage of study drugs was given with a weight adjusted infusion rate over 10 minutes resulting in a dose of 4500 mg levetiracetam, 3000 mg valproate and 1500 mg fosphenytoin (maximum dose) for a patient with 75 kg body weight. Primary outcome was control of seizure activity and improvement of responsiveness at 60 minutes after AED infusion start.
There was no statistical difference in efficacy of the three AEDs, controlling CSE in approximately 50% of patients. Safety data showed no significant differences either, although endotracheal intubation and hypotension occurred slightly more often in the fosphenytoin group compared to the other two drugs.
Finally, the evidence for treatment of CSE refractory for first line benzodiazepines adds levetiracetam and valproate to list of suitable antiepileptic drugs (AEDs). Guido Rubboli, co-chair of the scientific panel for epilepsy states: This is of high significance as both drugs have advantages over phenytoin. The latter has a longer infusion duration (usually 20 min), requires cardiac monitoring and has a long list of drug-drug interactions. Eugen Trinka, member of the management group of the scientific panel for the CEA, ILAE, adds: A further advantage of using levetiracetam or valproate over phenytoin in status epilepticus is the broader spectrum for additional seizures types covered by these drugs and the fact, that phenytoin is rarely used as AED in the continuing management of the epilepsy.
Guidelines will certainly incorporate this evidence in due course and applications to regulatory bodies adding indication for status epilepticus in valproate and levetiracetam will hopefully follow.