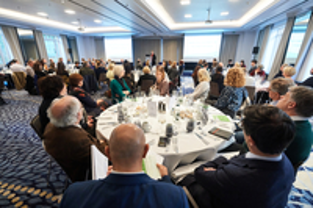 Alzheimer Europe held its final lunch debate of 2019 in the European parliament on 10 December 2019, focusing on dementia as a European research priority. The lunch debate, focused on "Improving the diagnosis of dementia – Findings from European research collaborations", was attended by around a 96 people including national member organisations, government experts on dementia, academics, industry representatives and policy makers.  Sirpa Pietikäinen MEP (Finland), chairperson of the European Alzheimer's Alliance (EAA) and board member of Alzheimer Europe opened the session, noting that the new term of the European Parliament and the European Commission, highlighting the new challenges and opportunities this presented in making dementia a policy priority in Europe.
Prof. Mercè Boada, the coordinator for the Models of Patient Engagement for Alzheimer's Disease project (MOPEAD), presented on the findings of the project which ran for three years between 2016 and 2019. She introduced the work of the project which aimed to provide a step change in patient engagement, supporting a paradigm shift from late-stage diagnosis to early diagnosis. Pierre Krolak-Salmon, work package lead for diagnosis and post-diagnostic support, part of the second Joint Action on Dementia (Act on Dementia), which ran between 2016 and 2019.
The work package head led focused on improving the role of primary care role in diagnosing dementia in a timely manner, including the piloting of an anti-stigma training programme and the development of a graduated dementia diagnosis pathway. The lunch debate also heard from Dr Gill Farrar, project co-lead for the Amyloid Imaging to Prevent Alzheimer's Disease (AMYPAD), introduced the 5 year project (2016-2021), consisting of two main studies to deliver on three objectives:
Evaluate the usefulness of β-amyloid imaging in diagnostic certainty and patient management
Investigate the natural history of disease and methods to enrich secondary prevention studies
Quantify treatment-induced changes and patient-specific efficacy.
Alzheimer Europe Chairperson Iva Holmerova closed the session by thanking the speakers for their informative presentations. She also thanked attendees from across sectors and disciplines for attending the meeting, highlighting the importance of collaboration between partners when conducting dementia research, with the political support for programmes such as Horizon Europe being crucial to continue this work.