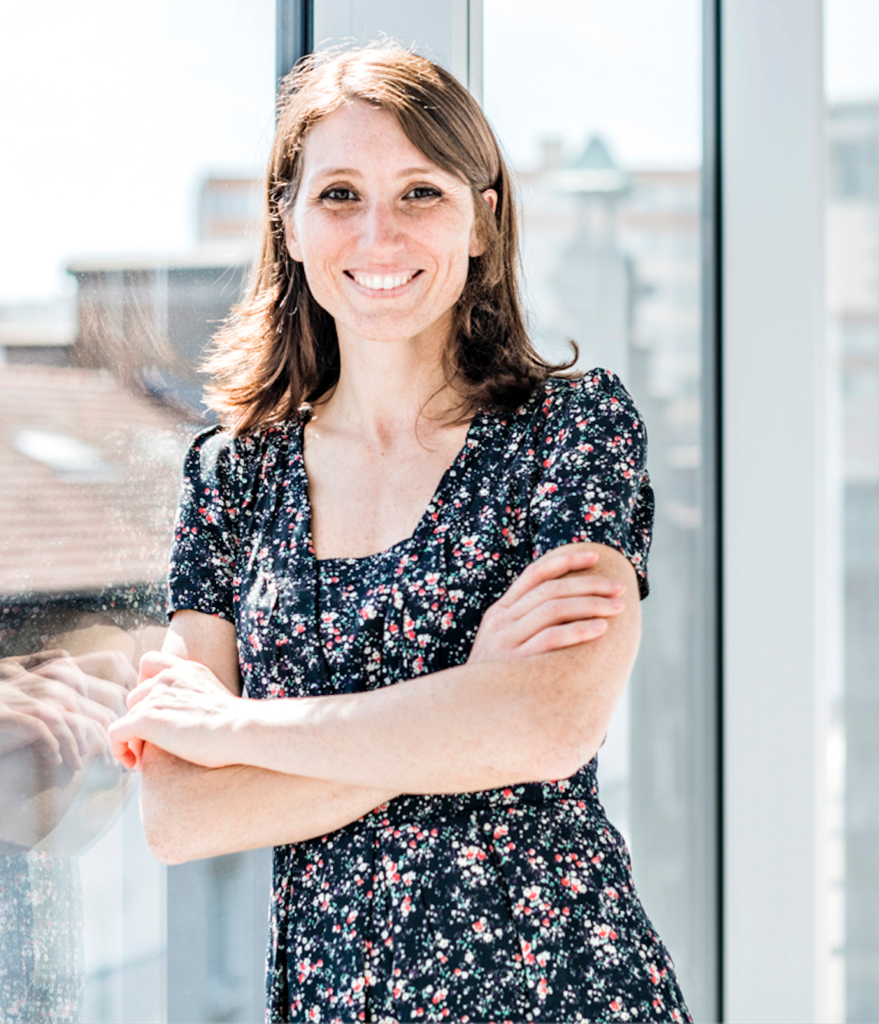 Dr. Thomas Jenkins, Editor of the EAN Pages website interviews
Dr. Benedetta Bodini, Associate Professor in Neurology in Paris, and new Associate Editor of the E-communication Committee
Dear Dr Bodini,
It is my pleasure welcoming you to the EAN e-Communication Committee! In order to introduce you to the EAN membership, I hope you can accept the below interview to be published in the EAN Pages.
Can you please introduce yourself to the EAN Pages readers illustrating why you chose to join this committee and how you view your contribution to its work?
It is a great honour for me that my application to join the EAN e-Communication Committee has been accepted, and I feel this the start of a very exciting journey! I am an Italian neurologist, and I am currently living in Paris, after having spent six years in London, where I completed my PhD at UCL. When I was contacted to join the EAN e-Communication Committee I felt this could be a great opportunity for me to contribute to spreading knowledge as much as possible, through the EAN website and EAN Pages, the best neurology updates, the latest guidelines and clinical recommendations, and the most cutting-edge research on neurological diseases. I have always read the EAN website thinking it was a great source of knowledge for neurologists, and now I have the possibility to be part of it! I hope I will be able to help develop new and exciting content for the website, especially to the sections dedicated to young neurologists. For example, I think a whole section where young clinicians will be able to find all the information about available funding opportunities to spend a clinical or a research period abroad in one of the European neurology centres would be of added value for our readers.
As a neurologist, what do you think is the most important task for the EAN?
I think EAN has a crucial role in bringing together in a single organisation all the best clinicians and researchers in neurological diseases from across Europe. Therefore, I think the most important task for EAN is to enhance the exchange of ideas among clinicians and scientists in the field of neurological diseases, which is an effective way to collect and spread the best clinical practices in neurology and the highest quality research in the field. Ultimately, I think it is this exchange of ideas and practices that leads to better care for our patients, and this is why EAN plays such a key role towards this objective.
Can you share with us some of the highlights and challenges of your career in which you have worked in several leading European neurology departments and centres of excellence? What would be your message to residents at the start of their careers?
As you say, during my career I have had great opportunities to work in neurology departments of excellence, in particular at the UCL Institute of Neurology, where I studied towards my PhD under the supervision of Prof. Olga Ciccarelli and Prof. Alan Thompson, and at the Paris Brain Institute, where I have been working since 2012 with Prof. Stankoff and Prof. Lubetzki. When I first moved from Italy to London at the end of 2006, I found it quite challenging to leave friends and family to find out what research in advanced neuroimaging applied to MS was all about, but I met straight away such fantastic people (including you Tom!), that I immediately realised I had made the right choice! In London first, and then in Paris, I found inspiring mentors and great friends, and I had the opportunity to find out that research applied to neurological diseases is truly exciting and can be game-changing for our patients. Of course, as a neurologist and researcher with three children, I can say that reconciliation between academic and family life can be challenging at times but it definitely very rewarding! So this is the message for my young colleagues at the start of their career, in particular for women residents: never stop being curious, choose to do research together with your clinical job, you won't regret it!
As an MS specialist with expertise in neuroimaging, what do you think are the most important breakthroughs in this field over the last 10 years?
I think the contribution of neuroimaging to research in multiple sclerosis has been truly transformative over the last decade, both from the point of view of improvements in patient care and of advances in the understanding of disease pathophysiology. For example, following the 2017 revisions of the McDonald criteria, conventional MRI sequences allowed us to diagnose MS earlier than before, after a first clinical event, and patients may therefore start disease-modifying treatments earlier in the course of their disease. Moreover, over the last decade, metrics derived from conventional MRI have been shown to effectively predict clinical outcome in phase II clinical trials. Neuroimaging has also provided key contributions in understanding MS pathophysiology in the last decade: for example, the use of ultra-high-field MRI and the application of advanced MRI techniques have allowed us to gain unprecedented insights into microstructural damage occurring both inside and outside visible lesions, and in cortical pathology in MS. Recent years have also seen an increasing interest in the applications of positron emission tomography to MS research, which, through the use of radiolabeled compounds directed against specific targets, has allowed us to obtain the highest possible specificity in measuring in vivo key elements of disease pathogenesis, such as myelin loss and repair, innate immune cell involvement, and early neuronal damage.
Based on the available data on the current COVID-19 pandemic, do you think that patients with MS are exposed to more severe forms of infection than the general population?
I have to say that, although available data are still limited, the first results of the Italian study group on COVID-19 infection in patients with multiple sclerosis, published three weeks ago on The Lancet, are rather reassuring: 95% of the studied group of patients with MS were classified as having a mild form of COVID-19 infection (with either no or mild pneumonia), while only 5% of patients experienced severe or critical symptoms following the infection. However, we have to keep in mind that these data are only preliminary, and further evidence is needed to conclusively establish the relationship between MS and COVID-19 infection severity. In particular, we need to understand whether specific disease-modifying treatments are significantly correlated with particularly severe forms of the infection. Data similar to the Italian study group have been collected in several European countries, and hopefully novel results will be available soon to provide conclusive answers to these open questions.