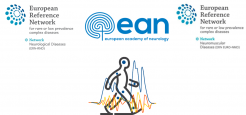 The EAN established MoUs with the ERN dedicated to Neuromuscular diseases and Rare Neurological Diseases.
ERN-RND provides educational webinars on rare neurological and neuromuscular diseases – in collaboration with the European Reference Network for Rare Neuromuscular Diseases (EURO-NMD) and the European Academy of Neurology (EAN).
The goal is to share knowledge on rare neurological, movement and neuromuscular disorders via a series of webinars presented by expert members of both networks. The webinars will treat topics related to the disease groups covered by the two networks and alternate between adult and paediatric contents. Various aspects from more general clinical features, examination, disease diagnosis, medical interventions and disease management to more specific ones as use of scales or imaging will be discussed.
The webinars are for clinical specialists (neurologists and paediatric neurologists), residents and other paramedical staff involved in the care of neurological patients.
In order to register for a specific webinar click on the webinar of your choice in the table below. The registration links will be active as soon as possible and at the latest 2 weeks before the webinar's date.
The list and dates of the upcoming webinars can be found here.