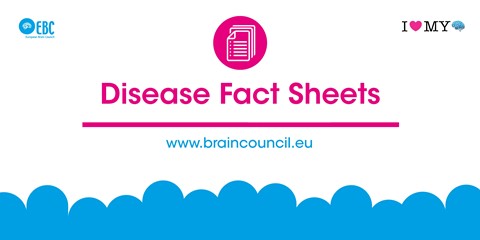 The European Brain Council (EBC) is very pleased to announce the launch of updated disease fact sheets, providing a quick overview of key facts, history, known causes, diagnosis, symptoms and treatment of brain disorders – neurological and mental alike.
Information contained in these fact sheets, developed with the help of experts for specific brain conditions, is intended for a wider general audience in search of useful information about brain conditions. These fact sheets fall under the #ILoveMyBrain campaign, which was created by EBC to promote and communicate brain health and ongoing efforts to prevent and treat brain disorders in Europe. The ultimate goal of the campaign is to gain more attention for brain disorders from EU policymakers and the general public, and ensure that more resources are channelled towards research on the brain and for patients of brain disorders.
The disease fact sheets are available on the EBC website.