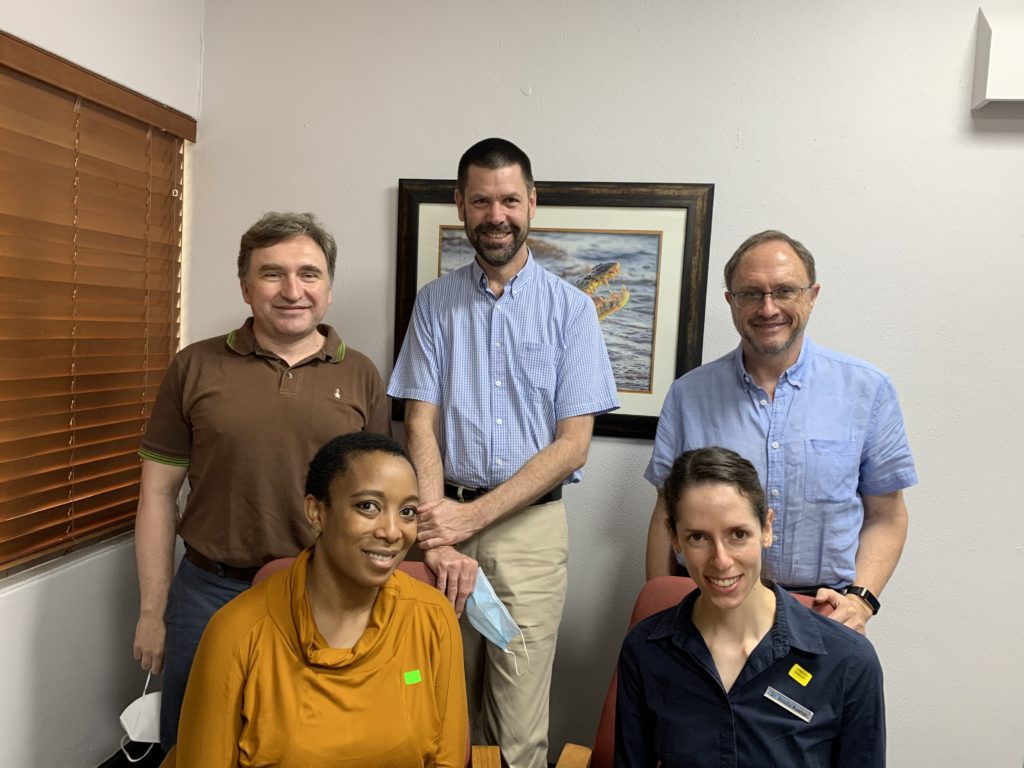 Team of neurologists from Wilgers Hospital, Department of Neurology, University of Pretoria, Pretoria, South Africa
How has COVID19 and national measures to control it affected routine and emergency neurology service delivery in your country? How have you adapted to deal with the impact?
Various elements had an impact on our normal routine.
Elective admissions and procedures were impacted by the prior to admission screening with a covid-19 PCR test and the restrictions on bed availability.
For us doing Deep Brain Stimulation surgery, admissions for elective surgery were halted in several months in 2020 and now again in 2021. This meant postponements of surgery with growing waiting lists. Patients who are borderline candidates for surgery due to age or cognition will now unfortunately miss the opportunity.
Patients were also cautious of coming to hospital. This was especially evident in patients with Multiple Sclerosis and epilepsy experiencing relapses or breakthrough seizures.
Emergency services were influenced as well. We used to share after hours with another nearby hospital but suspended this to reduce the risk of travel and transmission. As was experienced all over the world emergency admissions for conditions like stroke and transient ischaemic attacks reduced dramatically. Between the two significant spikes in covid-19 infections these admissions again returned to more regular numbers but still not to pre-pandemic. All through the year admissions and emergency consultations for acute and refractory headaches remained significantly less than before.
Routine visits in the clinic were initially markedly reduced. This was at first because we suspended routine visits to align with government regulations. When this was changed these visits returned to almost normal although the use of virtual consultations for older patients and those who were careful to come to the clinic remained common. Virtual consultations remain with us now although our use of them is limited to follow up consultations of known patients. We also encourage patients with chronic conditions like Parkinson's disease to email a list of problems for discussion before the consultation. All of us feel that virtual consultations are handy but tiresome and limited in that only existing issues can be addressed.
Have you seen many people whom you were concerned had neurological complications of COVID19 infection? What are the most common neurological manifestations of COVID19 in your region?
We were consulted by the covid-19 physicians for many different reasons to see admitted patients in the ward and intensive care units. These consultations were mainly to assist in managing delirium. Seizures were also a common reason for consultation and managing electrophysiology in the ICU came with fresh logistic issues.
Other COVID-19 associated conditions were less common: single cases of Guillain Barré syndrome and stroke post-COVID-19 were noted.
What are your main concerns for the future in regard to COVID19? What do you think are the key measures and contingency plans necessary to ensure high quality care for people living with neurological diseases during this pandemic?
Post-COVID-19 inflammatory complications seem to be identified more regularly now but post-COVID-19 fatigue and other 'soft' neurological complaints seem to be common and might are referred to our clinics.
We think patients should be encouraged to attend emergency services when they experience new neurological symptoms – stroke, MS relapses and seizures – and not wait until these symptoms are too advanced. Separate ER services for patients with typical COVID-19 complaints and patients with other emergency problems are already in place in our hospital and although this is not full proof it helps to reduce patient's perceived fear of attending emergency care at our hospital.
The in-patient care of patients with chronic neurological conditions are also a logistic issue in COVID-19 and isolation wards. Increased vigilance in medication compliance is necessary and we noticed increased training of staff especially in conditions like Parkinson's disease is needed.
The development of local virtual consultation guidelines, protocols and reimbursement strategies will be important for us to expand this safer service to vulnerable patients.
Vaccine access and encouragement to be vaccinated is in our minds essential for the future management of the pandemic. In South Africa we are late with starting the vaccination program and we have concerns that patients will be reluctant to be vaccinated.
Do you have any examples of positive innovations that have arisen in your service during the pandemic?

Virtual consultations developed so quickly and patients with no technology knowledge quickly learned how to use this service. An emphasis on hygiene and an assessment of our own practices – use of bedlinen and handwashing – is a simple but wide-reaching change in our day-to-day practice. The new online availability of international congresses was a particularly positive development for us here on the southern point of Africa. Travel to meetings have always been long and expensive. Now with the virtual format we can attend more meetings although all of us agree that we miss meeting colleagues from around the world and travel in general!