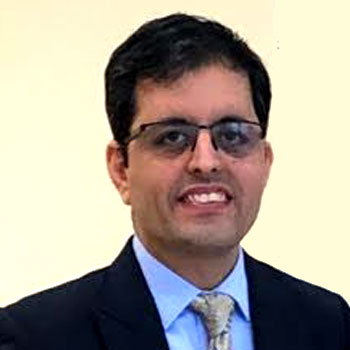 Dr. Pettarusp Wadia
Consultant Neurologist
Movement Disorder Specialist
Jaslok Hospital and Research Centre Mumbai, 400015, India
How has COVID-19 and national measures to control it affected routine and emergency neurology service delivery in your country? How have you adapted to deal with the impact?
As in other countries we have had to allocate a large chunk of the beds to COVID patients. In the first wave, due to multiple staff of the hospitals getting infected with COVID-19, there were problems for non-covid neurology patients also accessing healthcare and getting hospital beds in an emergency situation.
The second wave has been much more severe in terms of the number of COVID patients and shortage of COVID beds. However, the difference is that the healthcare workers have been fully vaccinated and hence the disruption of healthcare for non-COVID patients is relatively less. We have continued with both emergency inpatient and outpatient care in the second wave. We are also doing a fair bit of online consultation to support patients to whatever extent possible.
Have you seen many people whom you were concerned had neurological complications of COVID-19 infection? What are the most common neurological manifestations of COVID-19 in your region?
We have seen a significant amount of encephalopathy following COVID-19 infections. Some of the patients have presented only with encephalopathy. Like in other parts of the word we have seen strokes and seizures related to COVID-19. We have also seen encephalitis with MRI changes in the basal ganglia and thalamus. The most common manifestation I have seen apart from loss of taste and smell would probably be encephalopathy. In patients with underlying neuro-degenerative illnesses like Alzheimer's disease and Parkinson's disease we have seen significant worsening of the disease with hallucinations, confusion, taking several months to come back to baseline, requiring prolonged care and adding to caregiver distress.
What are your main concerns for the future in regard to COVID-19? What do you think are the key measures and contingency plans necessary to ensure high quality care for people living with neurological diseases during this pandemic?
The concerns could be future development of post-encephalitic parkinsonism like the Spanish flu. We have already seen encephalitis in a few cases, with basal ganglia and thalamic involvement. Patients with neurological disorders getting COVID-19 have had a difficult time in the COVID-19 period due to limited mobility and cognitive issues. Hence early vaccination would be helpful. Luckily India has already started vaccinating all those above 45 years of age and is going to extend it to those above 18 years starting the first of May. I have been encouraging all my patients to get vaccinated to protect them from severe COVID-19 infections. Secondly, we need to continue to offer online consultations until things improve so that patients can continue to have their problems addressed.
Do you have any examples of positive innovations that have arisen in your service during the pandemic?
Adaptation of online consultation is probably the biggest innovation. We were previously asking patients thousands of kilometres away to visit for routine follow ups when we realise that many of these can be handled during an online consultation.
COVID-19 has also enhanced collaborative research across the country and we have gotten together to plan several research projects in the field of neurology. The extra time due to the lockdowns has also enabled completion of a lot of the research papers which were kept on the back-burner for the want of time.