Loutraki, Greece, October 7-11, 2021
Finally, a return to in-person events!
EAN was able to welcome 46 participants from 15 countries – Denmark, France, Germany, Greece, Hungary, Ireland, Italy, Poland, Portugal, Romania, Russia, Spain, Tunisia, Turkey and Ukraine – to the EAN Autumn School in Loutraki. Formerly known for its' natural thermal springs, Loutraki is close to Corinth and the archaeological site and village of ancient Corinth, about 80 kilometres west of Athens.
We also had a fantastic international faculty, coming from Austria, Germany, Greece, Hungary, Italy and Turkey.
Unfortunately, no patients could attend this year due to the current situation, but the afternoon workshops were enriched by hands-on training sessions and lively discussions between participants and speakers.
A special highlight of the school was this year's first Quiz Night, moderated by Johann Sellner, where eight groups competed in answering scientific and trivia questions. It was a hard fight with one group leading, but eventually the night ended with only winners.
The autumn school lectures focus on how to approach a specific clinical syndrome in order to reach diagnosis and treatment.
The 2022 programme was:
Day 1: Muscle weakness
Day 2: Eye movement disorders
Day 3: Stiffness
On Day one, Gabriele Siciliano (Italy) spoke on 'Neuronal origin of muscle weakness', Maria Judit Molnar (Hungary) spoke about 'Lesion topography' and George Papadimas (Greece) about 'Junctional muscle origin of muscle weakness'.
The first afternoon workshops cases on neurogenic weakness, myopathy and muscular dystrophy were discussed.
In the evening, all participants and speakers visited the canal of Corinth, an amazing 6.4km long and only 21.3m wide waterway, carrying ship traffic between the western Mediterranean Sea and the Aegean Sea, cutting through the Isthmus of Corinth that connects the Peloponnesian peninsula to the Greek mainland, thus effectively making the former an island.
Afterwards, the evening ended with a traditional Greek dinner, music and folk dance
On day two, Michael Strupp (Germany) talked about 'Functional anatomy and beside examination of the ocular motor system'. Evangelos Anagnostou (Greece) gave a talk about 'Central ocular motor disorders' and Nese Celebisoy (Turkey) discussed 'Peripheral ocular motor disorders'.
In the afternoon workshops the participants were able to try out how to examine the ocular motor system and discussed cases related to disorders of the ocular motor system.
Marianthi Breza (Greece) informed all participants of the benefits of being a member of the EAN Resident and Research Fellow Section (RRFS) and invited everyone to join their many activities.
On the last day, Antonio Toscano (Italy) joined via zoom to inform particpants on how to 'Approach a patient with stiffness'; Johann Sellner (Austria) presented 'Signs and reasons for acute onset of stiffness' and Maria Stamelou (Greece) talked about 'Delayed onset and chronic stiffness'.
In two afternoon workshops, cases of infectious diseases and stiff person syndrome were presented and discussed.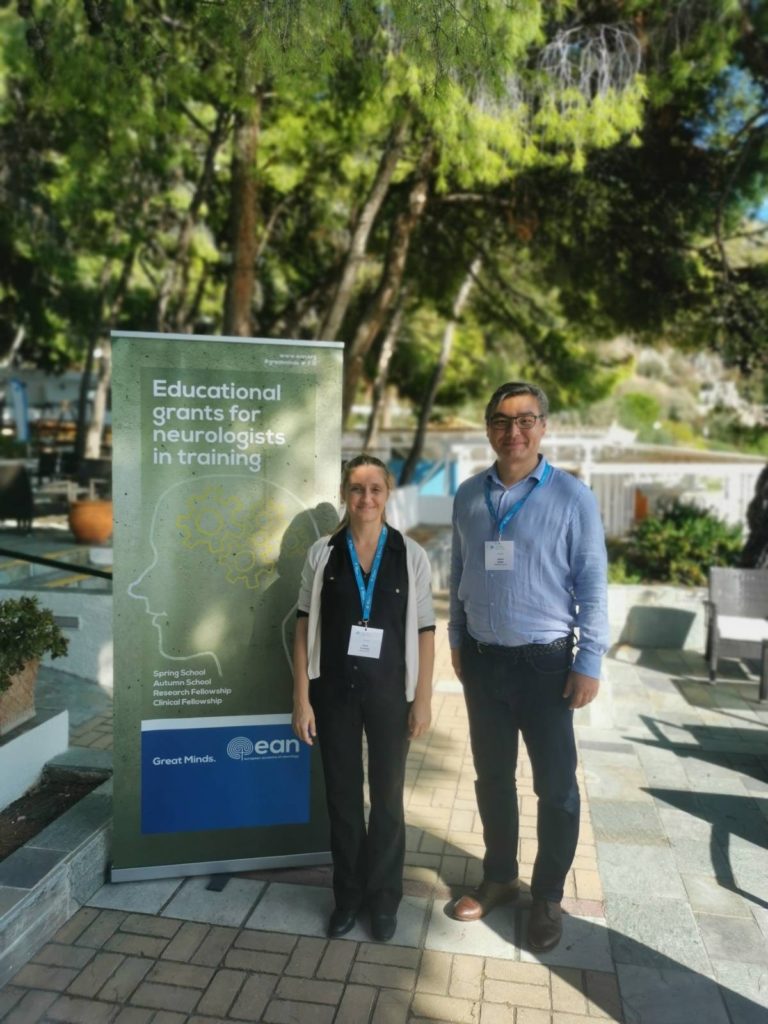 After a successful exam, the participants received their certificates of attendance and celebrated their success at a relaxed goodbye party.
We cordially thank participants and speakers for joining us and look forward to seeing all of you soon at other EAN activities.
If you are interested in participating in one of the EAN Schools, you now have the opportunity to apply for the next EAN Spring School! The deadline is 31 January 2022. More information can be found here: https://www.ean.org/learn/educational-events/spring-school.