by Prof. Jan BM Kuks, chair of the EBN European Examination Board
A board exam is a test you take to be allowed to work in the medical area. Such an exam may be offered at the end of a training period and serves as an exit exam. In many cases they are run by governmental entities or medical societies. Several European countries hold national board exams, e.g. for young neurologists, and exams for practicing neurologists as part of a continuous medical education (CME) programme. To harmonise postgraduate training and CME, the European Union of Medical Specialists (UEMS) is offering European board exams. The UEMS Section of Neurology has been setting these international exams since 2009 and this year the 15th Board Examination in Neurology will take place.
The idea that medical doctor should only prove their ability to answer concrete questions or demonstrate isolated medical skills is not tenable anymore. More complex competencies are needed for medical practice, and these should be reflected in a board exam. Medical doctors use reference sources continuously while working and it can even be dangerous not to do so. Relying purely on personal experience and knowledge during medical consultations is far from sufficient to answer complex questions from patients and to help them to get better. Medical problems should be put in more broad social contexts and at the same time situation-specific factors should be considered.
The European Board Examination in Neurology is therefore not just a matter of ticking the right answer to a simple multiple-choice question, learned by heart, with the knowledge that is internalised over the years. More complex cases are offered, and they may (and even should) be answered with the help of external sources during the exam. Questions with a cultural background (like public health related or ethical problems) will be dealt with in oral exams, respecting the environment the candidate is working in. More than that, candidates should not only show that they can echo what their tutors taught them, but that they are able to solve new questions with knowledge available from literature and their own practice and to discuss their answers.
Since the COVID-19 pandemic, the exam has been carried out virtually (although it is still a matter of debate whether we should go back to face-to-face exams in the future) and as a result many candidates from all over the world have been taking the European exam. In 2022, 150 neurologists in training participated and tested their knowledge by facing written ('closed book' and 'open book') and oral (on ethics, public health, clinical and scientific reasoning) questions. More details can be found online on the UEMS Section of Neurology homepage.
An examination committee of about eight members from the UEMS Section of Neurology and the EAN is responsible for the organisation of the EBN exam but the help of many external neurologists is needed to provide questions and to conduct the oral exams. We are currently in need of more neurologists to get involved in the preparation and as examiners.
If you are interested, we will be happy to provide more concrete information. Just send an email to education@ean.org and we will get back to you and find a suitable way for you to get involved.
…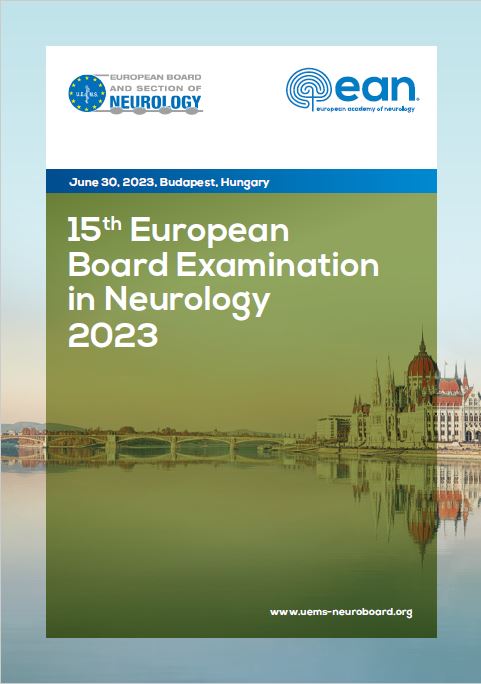 Application is open now:
Application Deadline: Wednesday, 1 March 2023.
Please take note of the reduced fee for candidates from low and lower middle-income countries.
Application Process: An application must be submitted by filling in the application form at uems-neuroboard.org
Additional learning resources: European Training requirements for Neurology.