It is with great pleasure that we announce the mentees who have enrolled in the third round of our EAN Mentorship Programme and been matched with a mentor to support them over the course of one year.
As you would expect from a mentorship programme, the aim is to help early-career neurologists to unlock their potential by pairing them up with neurology veterans who can provide guidance and advice. Such programmes can be hugely rewarding for mentors too, giving them a chance to develop their mentorship skills and make a valuable contribution to supporting the next generation of neurology professionals.
Congratulations to our Mentees:
Farzat Al Chayah, Giessen, Germany
Sergio Altomare, Barletta, Italy
Alexandra Boogers, Leuven, Belgium
Maria Alexandra Chiriac, Iasi, Romania
Isabella Colonna, Barletta, Italy
Joana Dionísio, Lisbon, Portugal
Patimat Isabekova, Saint-Petersburg, Russia
Regina Kartamysheva, Kazan, Russia
Margarita Kholodova, Kyiv, Ukraine
Neus Rabaneda Lombarte, Badalona, Spain
Sofia Maldonado Slootjes, Brussels, Belgium
Adolfo Mazzeo, Rome, Italy
Meryem Moro, Marrakesh, Morocco
Giulia Negro, Monza, Italy
Piotr Politański, Poznań, Poland
Federico Emanuele Pozzi, Monza, Italy
Benedetta Storti, Milan, Italy
Ahmet Ubur, Afyonkarahisar, Turkey
Busra Zeybek, Aydin, Turkey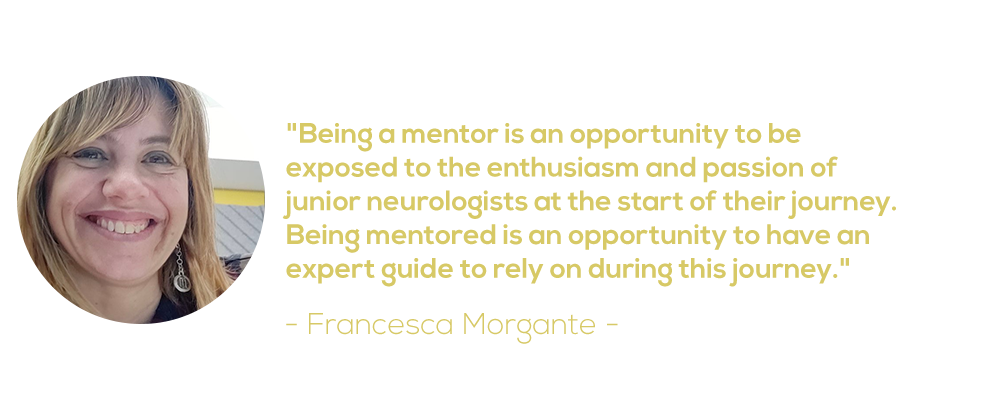 We would like to encourage all interested neurologists* to enrol in this new programme, which is no doubt beneficial to more junior doctors, who have the chance to interact with an experienced professional in the field of neurology and ask for advice on specific projects or personal development (*future mentees need to be RRFS/full members from EAN member countries).
This is also a chance for future mentors to strengthen their leadership and mentoring skills and make a valuable contribution to supporting the next generation of neurologists. By spending a few hours per month together as a team with the mutual goal of development, these pairs may even prepare the basis for a lifelong connection.
We encourage anyone who is interested to watch this very useful introduction on developmental mentoring and learn about the different areas of this programme.
If you are interested in taking part on either side of this programme, we encourage you to visit the Mentorship Programme page for all the information you need.
To find out how to apply as a mentee, click here.
If you are interested in becoming part of our pool of mentors, click here.