by Viktoria Papp
As usual, the annual EAN quiz show, the Brain Challenge brought plenty of entertaining and cheerful moments to EAN 2023 on Saturday afternoon, with two rival teams competing to solve difficult neurological cases.
The audience is an active participant in the quiz and can choose their own solution for each case via interactive voting. Questions are usually regarding rare diseases, and after the answer is revealed, a short explanation of the condition is given, allowing everybody to take new knowledge with them.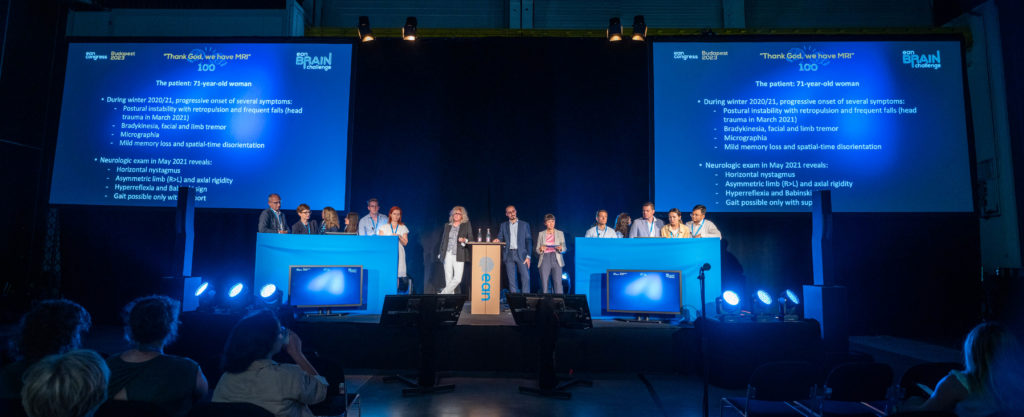 …
Questions at different difficulty levels were divided into four categories: 1) 'It's my parents' fault', covering genetic disorders, 2) 'Thank God, we have MRI' featuring conditions with typical MRI hallmarks, 3) 'So simple…or not?' about symptoms or signs that may not be widely known, and 4) 'Multisystem failure' consisting of conditions affecting several organs.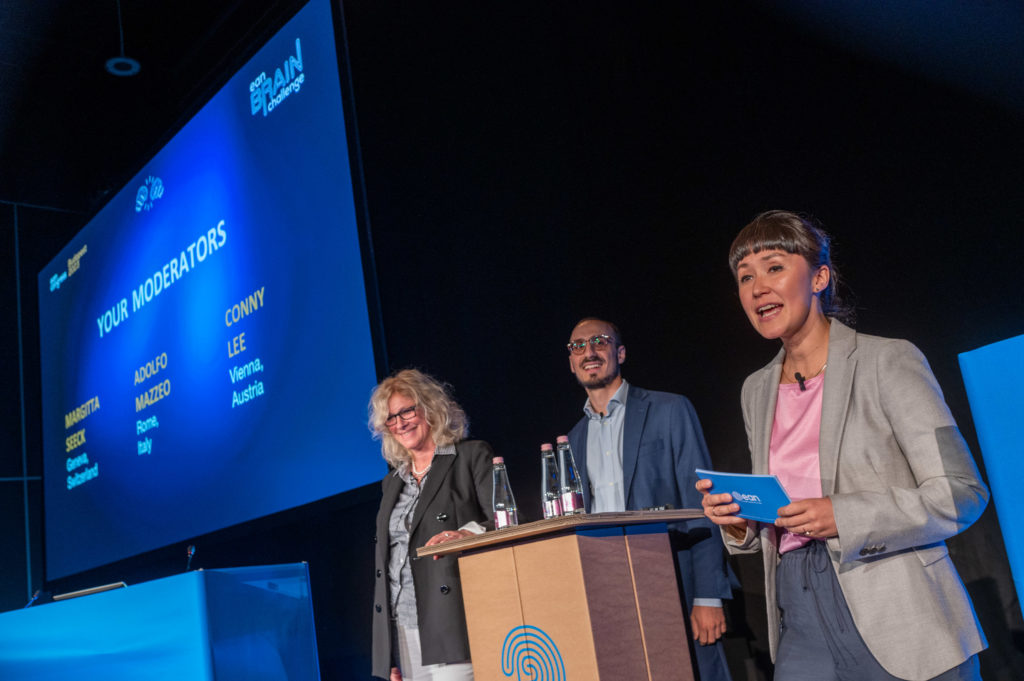 In the first part of the show, teams are given multiple-choice questions while in the second part, they have to answer open questions as fast as they can.
This year, the local Hungarian team competed against an international team, with proceedings taken care of by three moderators, Margitta Seeck (Switzerland), Adolfo Mazzeo (Italy) and Conny Lee (Austria).
…
The team members were:
Team Hungary
Zsuzsanna Arányi, Nóra Balázs, Levente Dobronyi, Péter Klivényi, Angela Majoros, Nikoletta Szabó
Team International
Alexandru Dimancea (Romania), Elnura Eralieva (Kyrgyzstan), Catarina Fernandes (Portugal), Catarina Fonseca (Portugal) Odysseas Kargiotis (Greece), Anand Kumar (India)
The duel finished in favour of the hosting team; however, both teams and the audience made a great performance.
…
**** Congratulations to Team Hungary – and thank you all for taking part! ****
Thanks must go to all EAN Scientific Panels, who submitted cases for the EAN Brain Challenge 2023:
(in alphabetical order)
Pedro Alves, Scientific Panel on Higher Cortical Functions
Anastasia Bougea, Movement Disorders
Yildiz Değirmenci, Scientific Panel on Movement Disorders
Füsun Ferda Erdoğan, Scientific Panel on Child Neurology
Antonia Lefter, Scientific Panel on Multiple Sclerosis
Federica Montagnese, Scientific Panel on Muscle and NMJ disorders
Nicola Rifino, Scientific Panel on Stroke
Maria Assunta Rocca, Scientific Panel on Neuroimaging
Gabriele Siciliano, Scientific Panel on Muscle and NMJ disorders
Iva Stankovic, Scientific Panel on Movement Disorders
Svetlana Tomic, Scientific Panel on Dementia and Cognitive Disorders
Roland Wiest, Scientific Panel on Neuroimaging
Thank you all for contributing and participating in the 2023 edition of this popular quiz show!
Task Force: Claudia Sommer, Viktoria Papp, David Garcia Azorin, Ambra Stefani