by Alice Accorroni, RRFS Secretary
The field of neurology is continuously evolving, presenting residents and research fellows with an array of career choices. The debate regarding the optimal timing for trainees to choose a specialisation within neurology or to strengthen their knowledge and remain in the field of general neurology has been an ongoing topic of discussion.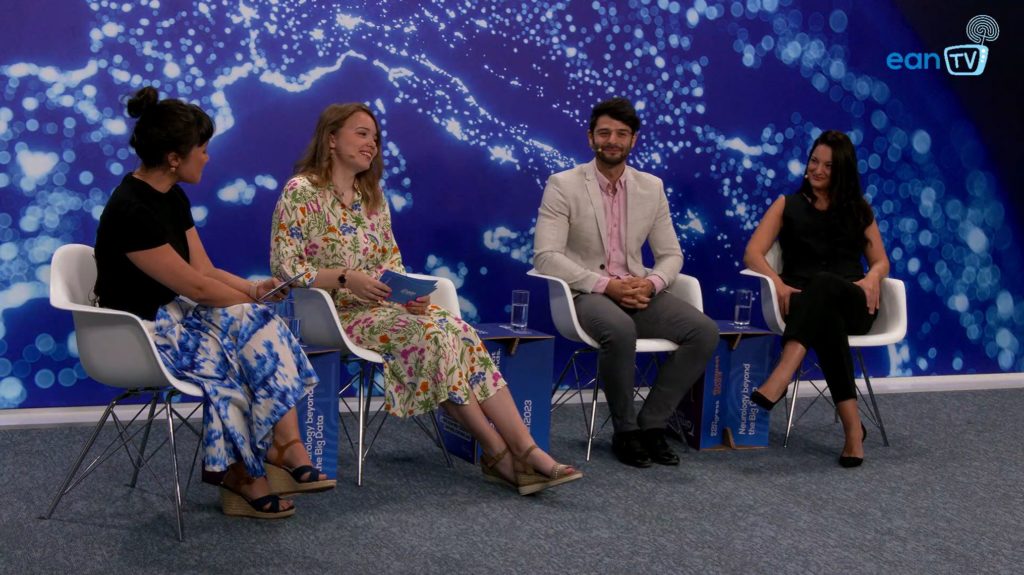 At EAN 2023, the RRFS session General neurology vs specialisation: weighting the pros and cons was hosted on EAN TV, chaired by Nina Vashchenko, RRFS chair. During this session, Dr Mihai Radu Ionescu, a neurology resident who is currently completing his training in Limoges (France) and Professor Bettina Balint, neurology consultant in movement disorders in Zurich (Switzerland), engaged in an enlightening discussion on the topic.
Dr Ionescu argued for the interest of specialising early to develop expertise in a specific area of neurology. In fact, by focusing on a particular subspecialty, trainees can delve deeper into the intricacies of diagnosis, treatment, and research, becoming experts in their chosen field and improving patient care. Moreover, they could make contact early on with potential supervisors and collaborators, and widen their network, thus, enhancing their career prospects. Furthermore, for trainees with a clear passion for a particular area within neurology, early specialisation can bring joy, satisfaction and personal fulfilment.
Professor Balint suggested that a balance is needed between general and specialised neurologists in a team to ensure accurate diagnosis and adapted patient care. Both speakers also agreed on the fact that by choosing general neurology, residents can explore various subspecialties within neurology, gaining exposure to diverse areas and developing a broader skill set.
Professor Balint also talked about the exciting intellectual challenge that comes from doing a general neurology clinic, as the clinician is exposed to a vast array of neurological disorders and their complexities. This enables general neurologists to continuously engage in problem-solving and critical thinking and contributes to career excitement and personal growth.
The other important point that was touched upon was also the variability in terms of trainees' needs with regard to work-life balance, priorities in life and how choosing a specific specialty or remaining a general neurologist can provide an adapted answer to the needs of each person. Furthermore, the speakers talked about the variety of settings in which trainees would want to work and underlined that the academic career is not the only pathway that can lead to a fulfilled career. In fact, for example, general neurologists may have the flexibility to work in a variety of practice settings, including academic institutions, rural areas, or private clinics. This versatility allows for customisation of work arrangements that could best suit individual preferences and lifestyle choices.
Dr Vashchenko finally turned attention to the difficulties and struggles that can come with choosing a career pathway whether it be specialising in a subspecialty or pursuing a career in general neurology.
Both speakers agreed on the importance of finding a mentor in the career pathway and they talked about the role that mentors can have in offering guidance, expertise, networking opportunities, emotional support, and real-life experiences, to help trainees navigate the complexities of neurology, align their interests with suitable career pathways, and foster long-term growth and development.
Professor Balint invited trainees to be curious and to seek mentoring and career advice through opportunities like the EAN congress or other available courses. She also stressed the importance of serendipity, and trial and error in the pathway to choosing a specialty within neurology. In fact, while careful planning and guidance are essential, sometimes unexpected encounters and experiences can shape a trainee's career trajectory in remarkable ways.
In conclusion, the discussion at the RRFS session on 'General neurology vs specialisation: weighing the pros and cons' shed light on important considerations for trainees. Ultimately, the choice between early specialisation and remaining in general neurology should be based on individual goals, passion, work-life balance, and long-term career aspirations. By carefully evaluating these factors under the guidance of an inspiring mentor, trainees can make informed decisions that align with their professional and personal ambitions and contribute to the advancement of neurology.
---
Interested neurologists can find many different support opportunities offered by the EAN. Clinical Fellowships, Research Fellowships, the EAN Mentorship Programme, and the EAN Leadership programme can all help you to find and refine your career path.
Further information about EAN educational services can be found at Learn – ean.org.