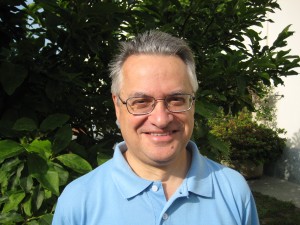 Emilio Perucca is President-Elect of ILAE (International League Against Epilepsy).
Gian Luigi Lenzi (GLL): Please, explain your role in the disease-specific professional society (DSPS) as well as in the EFNS. How many years have you held this role?
Emilio Perucca (EP): I held a variety of positions in the International League against Epilepsy (ILAE) for the past 20 years, and I have been member of the ILAE Executive Committee for the past 7 years, currently serving as Treasurer. In April 2012, I was elected to the position of President for the term 2013-2017.
GLL:  In your opinion, in general and didactic terms, what is the cultural role of a DSPS in respect to the "general" Neurology?
EP:  It is important for professionals with a special interest in a specific disease to have a dedicated society that can provide them with a forum for interaction and address their needs. ILAE has national chapters in over 100 countries, for a total of over 15,000 individual members, and provides a structured framework to advance knowledge in epileptology and improve the quality of health services for people with epilepsy. Some of our members work exclusively in epilepsy, while others are general neurologists and health care professionals for whom epilepsy is just one of their interests. Even in a world that tends to favour over-specialization, a disease cannot be isolated from the broader medical context. This is especially true for epilepsy, which is associated with significant co-morbidities and often develops as a result of another neurological or systemic disorder. At ILAE, we understand that we belong to the bigger world of neurology and that we must maintain close relationships with other neurological societies. In fact, ILAE has had long-standing partnerships or collaboration with EFNS, AAN and WFN, and it is my intention to develop this further during my presidency.
GLL:  In your opinion, what is the cultural role of a DSPS Congress and its Teaching Courses in respect to the EFNS Congress and its Teaching Courses?
EP: For those with a primary interest in a specific discipline, top quality DSPS congresses provide the best opportunity to learn about the latest developments in the area. Our congresses have a diversified didactic programme which targets the needs of specific categories, for example young neurologists or even professions allied with medicine. We also organize courses in different parts of the world which address specifically local needs. As for EFNS, their teaching courses provide the opportunity to learn across a variety of different sub-specialties, and can benefit from interaction with DSPSs. For a number of years, ILAE has indeed organised didactic symposia within EFNS congresses.
GLL:  In your experience, are the neurologists attending the DSPS Congress the same (or not), of those attending the EFNS Congress? If there is a difference, could you please specify?
EP: I do not have precise figures, but surely a sizeable proportion of attendees at our congresses also attend the EFNS congresses. Clearly, professionals who dedicate more than 50% of their time to epileptology are more likely to prioritize ILAE congresses if they have a choice. Because of regulations limiting the ability of industry to support participation of physicians to congresses, I expect that a smaller number of physicians will be able to attend both events in the future.
GLL: Do you regard it inconvenient or advantageous that relevant data presented at a DSPS Congress be presented also (i.e. twice) at the EFNS Congress few months later?
EP: The large majority of EFNS attendees are unlikely to have attended an epilepsy congress a few months earlier. Therefore, it would be advantageous for them to be exposed to such relevant data.
GLL: How do you consider a potential competition for financial support between EFNS and DSPSs?
 EP: Although I acknowledge that securing financial support is increasingly difficult, I believe that ILAE and EFNS are seen as complementary by our sponsors. Clearly, EFNS can count on a much broader range of potential sponsors compared with ILAE!
GLL: Do you have any opinion or concern regarding the relationships between EFNS identified as "general neurology" and your DSPS? May a closer collaboration be fruitful for both?
EP: As I indicated earlier, we belong to neurology and we are motivated to strengthen our collaboration with EFNS. By working together, we can achieve much more for the benefit of our members and, more importantly, for the benefit of our patients!
Emilio Perucca is Professor of Medical Pharmacology at the University of Pavia, Director of the Clinical Trial Center at the National Institute of Neurology IRCCS C Mondino Foundation in Pavia, Italy and Coordinator for Clinical research at IDEE (Institut des Epilepsies de l'Enfant e de l'Adolescent), Claude Bernard University Lyon 1, Lyon, France.
He graduated from the University of Pavia in 1975 and trained as a clinical pharmacologist and neurologist in London, England, where he obtained a PhD. His research interests have focused mainly on the treatment of epilepsy and outcome assessment in epilepsy.
He is currently Member of the Management Committee and of the Executive Committee of the International League against Epilepsy (ILAE), and President-Elect of ILAE for the 2013-2017 term.
He is a member of the Editorial / Advisory Boards of several journals, including Epilepsia, Epileptic Disorders, Epilepsy Research, Seizure, CNS Drugs, Lancet Neurology, Clinical Pharmacokinetics, and Acta Neurologica Scandinavica. In 1997 he received the ILAE-IBE Ambassador for Epilepsy Award.
He has co-edited several international textbooks and authored many articles in the field of clinical pharmacology and epilepsy therapy.