by Kursad Kutluk
Intravenous thrombolysis is the only approved acute stroke treatment worldwide. The use of intravenous recombinant tissue plasminogen activator (rtPA) for acute ischemic stroke within the first three hours has been licenced in 2006, in Turkey. The time window has been extended to 4.5 hours, in 2012.
The nationwide registry was created mainly to prompt wider use of the drug, and to monitor the safe implementation of treatment.
The study was conducted by Thrombolytic Therapy Study Group, supported by Turkish Neurological Society. Standard files were were used to record the data of patients treated under national regulations. From 2006 onward, the data is being collected by electronic media in coordinator center (University of Dokuz Eylul). The detailed files include information regarding patient profile, therapeutic window, stroke severity, imaging modalities used for decision making, complication rates, and functional outcome.
The first report of our registry was presented with the population of 464 patients from 29 centers and 13 cities (XIX. European Stroke Conference. 22-25 May 2010, Barcelona). The population increased to 974 patients, with the participation of 38 centers from 18 cities (8th World Stroke Congress (10-13 October 2012, Brasilia). Currently, there are more than 1000 registered patients from 39 centers and 20 cities. The project is ongoing.
The registry includes voluntary centers participated in the study, and it does not cover the individual case reports. However, the only nationwide system reflects the low and heterogeneous use of thrombolysis in Turkey with the population of 75 millions and 81 cities (Figure).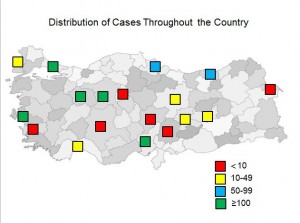 Previous reported data of our registry showed that thrombolysis is safe and feasible with the acceptable complication rates (European Stroke Conference 2010, and World Stroke Congress 2012). It is expected that these results will encourage the implementation of therapy and accelerate the obvious increase in rtPA use.
Stroke awareness is increasing in Turkey and Turkish Stroke Support Organization was established under Turkish Cerebrovascular Diseases Society.  Continuous education on stroke prevention and treatment has been performed effectively in every region of Turkey. Beside courses and panels which are organized during the national neurology congresses, local meetings, stroke winter and summer schools are very important and useful activities of the Turkish Neurological Society- Cerebrovascular Working Group. Our society has been an internationally active group on international stroke area and 9th World Congress of Stroke will take place in Istanbul in October, 2014.
Kursad Kutluk is Professor of Neurology and Chairman of the Neurological Department at University of Dokuz Eylul. Prof. Kutluk is Head of the Turkish Stroke Society.
At the Joint Congress of European Neurology in Istanbul the following sessions related to the important topic of Cerebrovascular Diseases will be organised:
Symposium 1: Post-stroke dementia
Teaching Course 1: Update on acute stroke Treatment
Teaching Course 7: Update on secondary prevention of ischaemic stroke
Focused Workshop 3: Embolism to the brain – a preventable and treatable entity – ESO/EFNS/ENS Joint Workshop
Focused Workshop 10: Ischaemic stroke: a thrombo-inflammatory disorder?
Focused Workshop 11: Impact of Technology in neurorehabilitation of stroke and spinal cord injured subjects
Focused Workshop 18: Stroke in early life – diagnostic an therapeutic challenges
Detailed information can be found here: http://efns2014.efns.org/Preliminary-Programme.1153.0.html