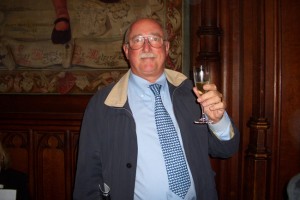 by Gian Luigi Lenzi
The first paper that I would like to point out to our readers is in a way connected with the paper on the NEW CHOLESTEROL GUIDELINE (Pencina MJ et al; N Engl J Med, March 19,2014) presented in the Neuropenews April issue.
It refers to the
EFFECT OF HIGH-DOSE SIMVASTATIN ON BRAIN ATROPHY AND DISABILITY IN SECONDARY PROGRESSIVE MULTIPLE SCLEROSIS (MS-STAT): A RANDOMISED, PLACEBO-CONTROLLED, PHASE 2 TRIAL;
Chataway J, Schuerer N, Alsanousi A et al; Lancet (Mar 2014).
140 patients have been studied, all affected by secondary progressive multiple sclerosis. In the 70 patients receiving 80mg simvastatin the mean annualised brain atrophy rate was significantly lower when compared with placebo. Apparently , the placebo group had slightly more serious adverse events ( 20% versus 13%). Since statin therapy is not unfrequently causing depression and weakness as side effects, I am wandering how these adverse events have been considered in the trial.
The second paper is from the neuropathology border of the brain sciences, applied to the study of the autism and it is published in the New Engl J Med, 370, 1209-1219:
PATCHES OF DISORGANIZATION IN THE NEOCORTEX OF CHILDREN WITH AUTISM,
by Stoner R, Chow ML, Boyle MP et al.
It is a small, explorative study, but the finding of a focal disruption of the cortical laminar architecture in the cortex of autistic children represents an important landmark in the research for understanding and treating this quite frequent psychiatric disorder.