by Eberhard Deisenhammer
A long living institution or society needs an archive, especially if the officers of such a society, out of democratic reasons, turn over rapidly (e.g. members of the management committee can only be elected twice for a two years period).
The knowledge of the past is the basis for the future development and innovation and makes it possible to look forward to new visions. Otherwise the danger of stagnation is on the horizon.
To look up the past of the EFNS, anyone can be referred to the minutes of the sessions of the council, the management committee and all the other committees and the newsletters.
But it was decided to give a more vivid interpretation of the past asking all the persons who played a role in the Federation to give a very personal contribution regarding his or her cooperation with it.
The archivist collects and edits these contributions. There are of course different views of some persons on the identical object, but this will highlight the liveliness of the archive.
As anyone can recognize in the contents, there are chapters about the various activities and those details can be looked up easily and that would be of special interest regarding the new development between EFNS and ENS.
Please enter the EFNS Archive here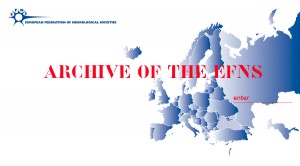 ….a few moments in time from the years 1991-2013
Eberhard Deisenhammer is member of the EFNS from the first day on, was Secretary General and Treasurer for many years. He is also Professor of Neurology and before his retirement he worked  in Linz, Austria and Passau, Germany