Report from the Education Committee, February 2015
by Hannah Cock
Education underpins much of the EAN vision, in which context an early priority for the Education Committee has been to work on how best to optimise the quality of our programmes, and reward those who excel.
Feedback is anyway routinely collected from all those who attend teaching courses, and other educational events and sent back to course organizers. However, we want to make sure that the results are not only seen, but acted on. An analysis of the feedback from teaching courses (Figure) in Istanbul, unsurprisingly, confirms that educational satisfaction for courses correlates most strongly with speaker quality, assessed in terms of academic content and presentation/clarity. All of our speakers get rated as at least good, and mostly as very good to excellent, but we want to make sure that we build on this in the future.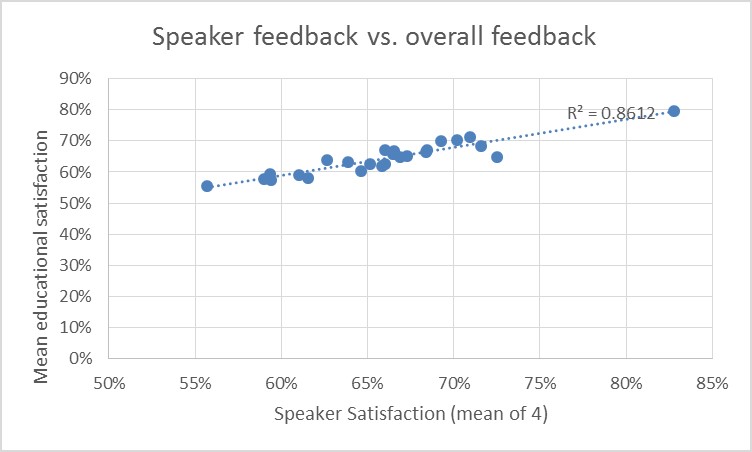 Evaluating quality in education is a science of its own, and with board approval it has been agreed that what used to be the Continuing Medical Education subcommittee, chaired by Professor Jan Kuks, an expert in this area, will now be renamed the Quality Assurance sub-committee so they can focus on just that.
For all future educational activities, including the Berlin Congress, Spring School, Regional Teaching Courses and our exchange & fellowship programs, the Quality Assurance sub-committee will be overseeing collection of feedback and quality measures, and using these to inform future content, including which speakers are (or aren't!) invited back. Don't worry, we know everyone can have bad days, and some topics are always more or less popular than others, and will take this into account. Look out also for future announcements about how we will reward excellence, and our plans to develop an EAN speaker database.
Dr Hannah Cock is chari of the EAN Education Committee and works at the Atkinson Morley Regional Neuroscience Centre, St. George's NHS Trust, London, United Kingdom