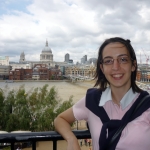 I had the opportunity to be one of the young neurologists chosen by the EFNS Education Committee to receive an educational fellowship. This was a 6 month fellowship in Neuro-infectious diseases that took place in the Department of Neurology and the HIV Unit of the Royal London Hospital in London, under the supervision of Prof Gavin Giovanonni and Dr Mónica Marta. Here I had the chance to follow experienced neurologists in their activities in the ward, outpatient clinic, meetings and research projects.
Much of the HIV in-patients had neurological symptoms. This way I had the opportunity to discuss cases of HIV encephalitis, opportunistic infections of the central nervous system and autoimmune diseases caused by immune dysregulation. In the Neuro-HIV outpatient clinic, disease joint clinic with the presence of a HIV specialist (Dr. Simon Rackstraw) and a neurologist (Dr. Mónica Marta), I had the opportunity to observe patients with more chronic symptoms as HIV-associated neurocognitive disorders, vacuolar myelopathy, HIV- and drug- related polyneuropathies, motor and cognitive consequences of opportunistic infections and complications of antiretroviral treatment. This way I could develop my skills in the clinical evaluation of HIV patients with neurological symptoms, consider differential diagnoses, select the appropriate tests and determine the therapeutic plan. As the neurologists active in neuro-infectious diseases are also dedicated to neuroinflammation/ neuroimmunology I also attended clinics where I saw many people with multiple sclerosis.
Every week I attended a radiology meeting where neurology and neurosurgery patients are discussed for diagnostic or therapeutic decisions. Monthly there was an HIV/infectious disease meeting with radiology as well as a neuroimmunology meeting with radiology to discuss more challenging cases in these areas. The Grand Round took place every week with presentations of 2 clinical cases and sometimes invited speakers to give lectures on their area of expertise within neurosciences.
I had the opportunity to visit the Mildmay UK Hospital dedicated to rehabilitation of people with neurocognitive disorders associated with HIV and followed the research work carried out in Blizard Institute. In the later I could follow two of the investigator-led clinical trials developed by the neuroscience team: Raltegravir (Isentress) Pilot Study in Relapsing Multiple Sclerosis (INSPIRE) and Protective Role of Oxcarbazepine in Multiple Sclerosis (PROXIMUS).
During my fellowship I wrote a review about John Cunningham virus infection, accepted for publication in the Journal of Multiple Sclerosis under the title "New and Old Concepts and Strategies for Progressive Multifocal Leukoencephalopathy". After this work, due to the increasing concern of the risk of progressive multifocal leukoencephalopathy (PML) with the new drugs approved for multiple sclerosis I reviewed all PML cases associated with immunosuppressive/ immunomodulatory treatment published in the Pubmed in the last 10 years. This manuscript is being submitted for review. I also participated in the publication of a case report of a patient with multiple sclerosis who developed antibodies against interferon beta-1a raising the hypothesized these antibodies could also interfere with the endogenous interferon antiviral activity. This case was accepted for publication under the title "From neutralising antibodies against exogenous interferon-beta inhibit endogenous signaling pathways?" in the journal Multiple Sclerosis and Related Disorders. I also started a project design to review of patients with HIV, followed at the Royal Hospital, who had central nervous system tuberculosis.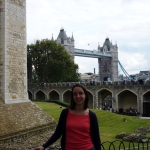 This fellowship greatly allowed me to expand my knowledge and experience in neuro-infectious diseases, to get in contact with the practice of neurology in other countries and to establish a relationship with the Royal London Hospital. I must acknowledge all the clinicians who allowed me to attend their clinics and always showed interest in sharing their knowledge; the neuroscience team of the Blizard Institute for their support; and a particular mention goes to Dr Monica Marta, the neurologist more dedicated to neuro-infectious disease, for her guidance, concern and support.
This was a very important opportunity for me and I am very grateful to EFNS for it.