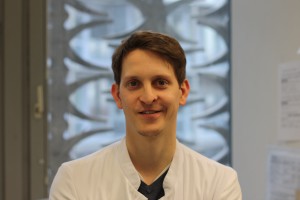 Thanks to the support from the European Academy of Neurology (EAN) I was able to spend a research fellowship at the Stroke Research division, Institutes of Cardiovascular and Medical Sciences (University of Glasgow, United Kingdom), in the research group led by Professor Kennedy R. Lees.
It was intriguing to be part of a group of researchers of whom are world-renowned in the field of stroke research. I was particularly interested in learning and working with the Virtual International Stroke Trials Archive (VISTA). VISTA is a multinational registry of clinical trials data conducted in patients with stroke. One of VISTA's sub-archives, VISTA Acute, contains clinical trials data for more than 28000 acute stroke patients. The wealth of data allows various exploratory and secondary analyses. During my fellowship in Glasgow, I endeavored to study the effect of concurrent statin treatment on infectious complications. Statins are lipid-lowering drugs which exert pleiotropic anti-inflammatory effects that may reduce the risk of post-stroke infections. In addition, I studied the effects of concurrent statin treatment with hemorrhagic complications. The results have been accepted for publication in Neurology®. With data from VISTA and local support, I have improved my statistical understanding and techniques for example, propensity- score matching and complex regression modelling. Moreover, I have had the opportunity to observe the elegant work and management involved in large multinational collaborative projects.
In addition to my research projects, I was given the opportunity to participate in ward rounds of the Acute Stroke Unit, Western Infirmary Glasgow. I also attended the weekly Stroke-Radiology multidisciplinary meetings where patients' management and their radiological findings were discussed in detail. Through this, I learnt to appreciate the "Stroke Unit" concept and the general issues of stroke management in the UK. I also had the opportunity to explore the beautiful landscape and the proud history of Scotland.
A real highlight during my fellowship visit was the inaugural European Stroke Organisation Conference (ESOC) held on 17-19th April 2015 in Glasgow. Nearly 2,700 delegates from 83 countries were present and shared the enthusiasm about the proven evidence of endovascular treatment of stroke. Prior to the ESO Conference, I was invited by Professor Lees to participate in the VISTA steering committee meeting. I was given the opportunity to present my previous work and ideas to the VISTA steering committee, which consists of renowned experts in the field of stroke research.
I really enjoyed the respectful and friendly atmosphere and, particularly, the regular yet productive coffee breaks together with Professor Lees and his team. I would like to express my gratitude to the EAN for providing the financial support to realize this research exchange at an early stage of my career. It has certainly helped to build a network for possible joint projects in the future. I truly appreciate the support by Professor Matthias Endres, director of my home department at the Charité in Berlin who has kindly assisted with building up the connection with Glasgow and consistently stimulates my interest in stroke research. Special thanks to Professor Lees, Dr Azmil Abdul-Rahim, Dr Rachael MacIsaac and Mrs Pamela MacKenzie for making my stay in Glasgow enjoyably pleasant and unforgettable.
Dr. Jan Scheitz works at the University Hospital Charité in Berlin, Germany