This past weekend the EAN programme committee met to select the Oral Sessions and ePoster Sessions among the 1932 submitted abstracts.
It was a tough job, but we would like to thank the more than 120 reviewers who have done a terrific job with their scores and helpful comments.
At the EAN congress in Copenhagen there will be 26 Oral sessions, plus two tournament sessions as well as many ePoster sessions.
The sessions will be on Saturday, Sunday and Monday, May 28-30, 2016, every day from 12:30-13:15 and from 13:30-14:15 for the posters and 14:45-16:15 and 16:30-18:15 for oral presentations. All submitters will be informed on acceptance within the next days.
The top-5 topics where abstracts were received are:
• Cerebrovascular diseases (CVD): 245
• MS and related disorders: 244
• Movement disorders: 172
• Epilepsy: 120
• Headache and Pain: 115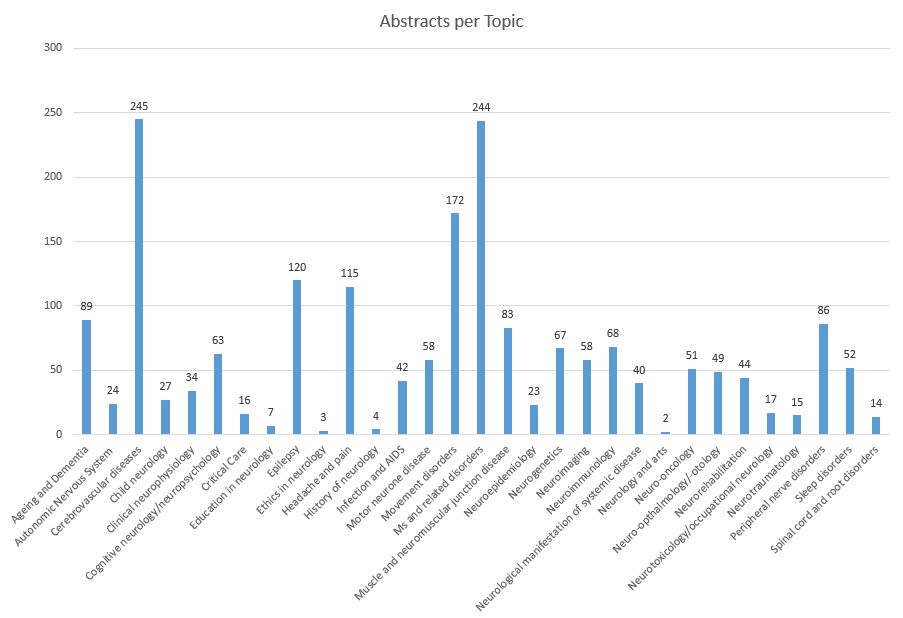 The top-10 countries from which abstracts were received are:
Italy, Portugal, Spain, Turkey, Denmark, Russian Federation, Germany, UK, France and Switzerland
The congress will offer 320 Bursaries this year. Lundbeck Foundation kindly offered an educational grant and therefore EAN was able to increase the number of bursaries.
The winners will be announced within the following days.
The "NEW" EAN Investigator Award
Among all abstracts, the reviewers announced around 245 abstracts eligible for an investigator award purely due to the scientific content. Out of these, the Programme Committee selected 50 presentations, that will be visited and evaluated in regards to their presentation skills during their sessions (oral or poster) by members of both the Programme and Scientific Committee. The award for the 20 best presentations will be a registration to the next congress, a diploma and the winners will be announced in the European Journal of Neurology and the EAN newsletter. These presentations will also be filmed and displayed on the EAN website if the presenters agree.
The 50 authors, who were selected will be notified by the end of March.
EAN Tournament for Neurologists in Training
The 2016 participants of the EAN Tournament will receive a travel grant to Copenhagen, free congress registration and up to four nights of hotel accommodation:
Tournament 1 – Basic neurology
Sunday, 29 May 2016, 14:45-16:15h, Hall B4.M1
Ermelinda De Meo, Milan, Italy: Cognitive correlates of the brain functional connectome abnormalities in pediatric patients with Multiple Sclerosis
Asya Ekmen, Paris, France: Zinc release and action at excitatory Schaeffer collateral-CA1 pyramidal cell synapses
Roberta Messina Milan, Italy: Modifications of Gray Matter Volume in Migraine Patients Over Four Years: A Tensor-Based Morphometry Study
Marta Pace, Bern, Switzerland: Role of REM sleep and melanin concentrating hormone in the neuroprotective effect of sleep deprivation pre-ischemia preconditioning
Lila Sirven-Villaros, Nice, France: Bevacizumab: is the lower the better for glioblastoma patients?
Tobi Van den Bossche, Antwerp, Belgium: Clinical characterization of SORL1 mutation carriers in a European early-onset Alzheimer's disease cohort
Tournament 2 – Clinical neurology
Monday, 30 May 2016, 14:45-16:15h, Hall B5.M1
Marte Helene Bjørk, Bergen, Norway: Low maternal folic acid in women with epilepsy during pregnancy is linked to autistic traits in the child at 3 years of age
Antonio Martin Bastida, London, UK: Imaging nigrostriatal circuitry with 11C-PE2I PET and Neuromelanin-sensitive MR in Parkinson's disease
Hans-Georg Wirsching, Zurich, Switzerland: Complete resection of contrast enhancing tumor volume is associated with improved survival in recurrent glioblastoma – results from the DIRECTOR trial
Tomas Uher, Prague, Czech Republic: Identification of MS patients at highest risk of cognitive impairment using integrated brain MRI assessment approach
Marko Celicanin, Copenhagen, Denmark: Anti-LGI1 mediated autoimmune encephalitis in Denmark – a multicenter retrospective study
Simão Cruz, Amadora, Portugal: Clinical, biochemical, molecular and histological features of 65 Portuguese patients with genetically confirmed mitochondrial disorders
The winner of each group will receive free registration at the 3rd EAN Congress in Amsterdam, The Netherlands 2017, up to four nights hotel accommodation and a travel grant. The prize is not transferable and participation in the EAN Congress 2017 will not be paid off in cash.
One runner-up prize in each, the clinical and basic tournament will also be awarded with a free registration to the 3rd EAN Congress in Amsterdam.