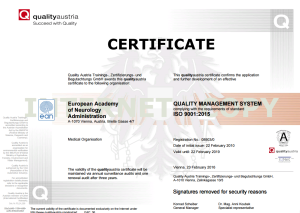 In February 2016 the new Quality Management System (QMS) of the EAN Admin has been reviewed by an external auditor from the Quality Austria. Eveline Sipido from Brussels and Magda Dohnalová from Prague also participated in this audit at the EAN Head Office in Vienna. We are very pleased to announce that after this successful audit our QMS has been certified according to the new norm EN ISO 9001:2015, the world's leading QMS standard, as one of the first organisations or companies. To receive this certificate, the EAN staff reviewed and revised the whole QMS including the EAN Management Handbook and role descriptions as well as numerous process descriptions, working instructions and templates for forms.
Before conducting the external audit, the system was also reviewed during an internal audit. The EAN Management Handbook was discussed in detail during the Management Review with Professor Franz Fazekas, EAN Quality Supervisor, Anja Sander, EAN Executive Director and Julia Scheidl, EAN Quality Manager.
With this updated QMS in place now the EAN staff can use the Quality Management documents for their daily work, which contributes to a seamless workflow and helps saving time at daily business.