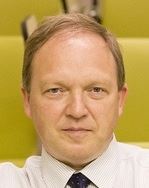 Elena Moro (EM): As incoming co-chair of the Scientific Panel "Child Neurology" can you briefly introduce yourself and your main areas of interest to the Neuropenews readers.
Lieven Lagae (LL): Currently, I am the president of the European Pediatric Neurology Society (EPNS) which is representing the large majority of pediatric neurologists in Europe. I am a full Professor at the University of Leuven Belgium and Director of the Pediatric Neurology program at the University Hospitals of the University of Leuven Belgium. We offer a comprehensive diagnostic and therapeutic program for all major neurological problems in children. Personally, my main interest is childhood epilepsy. I am mainly involved in the development and testing of new anti-epileptic drugs in childhood epilepsy (e.g. translational and clinical research in Dravet syndrome, Lennox Gastaut syndrome and Tuberous Sclerosis), neuro-stimulation in childhood epilepsy and research into the link between cognitive problems and childhood epilepsy.
EM: Can you outline the strategic work plan you foresee for the Scientific Panel that you co-chair?
LL: I want to strengthen the collaborations between the EAN and the EPNS. We can upgrade our educational and research initiatives to reach more adult and pediatric neurologists. See also below!
EM: What is the main "deliverable" that you want to achieve for the work the Scientific Panel will address during your term of office?
LL: Transition of care between pediatric and adult neurology services is still not well organized in most centers. Within the child neurology panel, we will develop guidelines in this respect and discuss these with other relevant panels within the EAN. The main deliverable will be a statement paper we can present not only in the clinical field, but also in regulatory and political organizations.