Croatia (or "Hrvatska" in Croatian) is a peaceful country hosting many treasures, which include crystal-clear seas, fairy-tale islands, unspoilt fishing villages, magnificent beaches, picturesque vineyards, Roman ruins and medieval walled cities that whisper about centuries of hardships and past prosperity. With a surface area of 56,538 sq km, the country is not large but has a spectacular 1,778 km coastline along the Adriatic Sea and 1,185 offshore islands (66 inhabited). Altogether, almost 6,000 km of coastline winds around innumerable bays and inlets, rising to steep mountains in the hinterland or flattening out to sandy, stone, or pebbled beaches. It's easy to binge o­n sun and sea in Croatia but that would mean missing out o­n the country's rich cultural heritage. Evolving from centuries of occupation by foreign empires, Croatian culture is divided between the Latin-influenced Mediterranean coast and the Central European-style inland. Along the Adriatic coast, you'll find remains of palaces, temples and amphitheaters from the Roman Empire (Split, Pula, Zadar, Trogir, Poreč as well as forts, fishing villages and fortified towns built during the many centuries of Venetian rule (Rab, Pag, Korcula, Hvar, Rovinj) or independent city-states (Dubrovnik). The Austro-Hungarian Empire left a strong imprint o­n the architecture of the interior, particularly in the baroque cities that flourished in the 17th and 18th centuries (Zagreb, Varazdin, Osijek, Pozega, Sisak), as well as o­n the mentality of the continental people. The continental part of the country is characterized by beautiful forested and hilly landscapes in the west, well-preserved medieval and baroque castles and mansions (especially in the Hrvatsko Zagorje region near Zagreb) and the fertile and misty plains in Slavonia to the east.
Croatia has approximately 4,5 million inhabitants, and its largest cities and regional centers are Zagreb (the capital, in the central part, app. 1 million citizens), Split (at the central Adriatic Coast, 200,000), Rijeka (in the Northern Adriatic, the biggest port, 180,000) and Osijek ( Eastern Slavonia, 120,000). Administratively, it is divided into 20 regions, with the City of Zagreb as a separate unit.
We have four medical universities (Zagreb, Rijeka, Split and Osijek) with overall about 500 students studying in Croatian language, and about 100 students per year studying in English.  After a 6-year study period and the achievement of 360 ECTS, graduates are conferred the title of Doctor of Medicine (MD). The next step consists of an internship of 6 months after which candidates need to pass a national exam to be medical doctors. Medical doctors practicing medicine in the Republic of Croatia must register with the Croatian Medical Chamber.
There are about 350 neurologist in Croatia, which means about one neurologist to 13,000 people. About 70% of neurologist are women. The residency in Neurology consists (being for now only in croatian language) of a 5-year progran which covers all fields of neurology. Residents spent at least (and some of them all) 4 years of strictly neurological education at one (choosen) University hospital in Croatia. One year is spent bewteen internal medicine, neursurgery, psychiatry, oftalmology and infectious diseases residency.
In the Croatian health system all hospitals are for now public hospitals, although the number of private clinics is rising. We have a national health insurance company with the greatest influence on health economy and rules, which is payed directly from ones income, and all services are free. However, there are trends for changing this policy and move more to private sectors, due to socioeconomic reasons, and the high costs for sophisticated health needs.
The name of our national neurological society is Croatian Neurological Society (CroNS) and has 200 members. The president of CroNS is Prof. Silva Butkovic Soldo, the vice presidents are Prof. Ivan Bielena and Prof. Igor Antoncic, and the members of the executive board are Prof. S. Basic, Prof. I. Bilic, Prof. E. Bilic, Prof. S. Hajnsek, Prof. A. Lovrencic Huzjan, Prof. B. Malojcic, Prof. I. Lusic, Prof. Z. Poljakovic, and Prof. Z. Trkanjec. The regular meetings of CroNS are organized in order to follow and support continuous scientific and professional work of the members, and also to coordinate various activities and processes between Ministry of Health Republic of Croatia, National Health Insurance Company, and other institutions involved in the everyday in all the fields and aspects of neurology.
University of Zagreb
The School of Medicine of the University of Zagreb (UZSM/ZSM) is the oldest, and most reputeded and largest institution offering medical studies in the Republic of Croatia. It was established almost one century ago, in January 1917.  After the Second World War, the number of students went up to 2,855. However, since the academic year 1965/66, the practice of limited registration under the terms of an entry exam has been established.
Medical School in Zagreb:
The curriculum for a medical degree at the Zagreb Medical School comprises mandatory general premedical courses, and four major groups of professional courses in basic medical sciences, pre-clinical medicine, clinical medicine and public health. When compared to other medical schools in neighbouring countries, our advantage is an early integration of public health and health management courses in the undergraduate studies curriculum. Professional ethics is given special coverage throughout the whole course of study with a separate course offered in the third year. Foreign students are required to learn the Croatian language during the first two years in order to be able to communicate with patients at the clinical stage of their study. In the final diploma exam taken at the end of the 6 years, the future physicians are expected to have gained knowledge and understanding of the most common diseases, their treatment and the patients' management. At Medical School University of Zagreb all the courses and complete undergraduate education is available in Croatian and English. The link to Medical Studies in English is:
http://mse.mef.unizg.hr/link1.php?grupa=01000000
Throughout the 6 years of medical school students may choose between several elective clinical courses oriented to various neurologic themes. Students may choose additional elective courses from the below listed elective courses in the field of neurology:
Diagnostics and treatment of neuromuscular diseases
How to live with epilepsy
Prejudices about multiple sclerosis
Autonomic system disturbances
Why have I become forgetful?
I am dizzy
I have headache, what shall I do?
Why do I shake?
University Hospital Zagreb – Air-view:
The University Hospital of Zagreb is a leading hospital in several fields of medicine. Neurology is one of most important areas of excellence with many high level subspecialities.
The Referral Centre for Intensive Neurology and Endovascular Treatment of Cerebrovascular Diseases of the Ministry of Health of Republic Croatia,  (Head Prof. Zdravka Poljaković) is fully equipped and has all characteristics of a "high volume" stroke centre. The center has started the accreditation process for this title within the European Stroke Organisation. In cooperation with the Department for Diagnostic and Interventional Radiology (Prof. M. Radoš, Dr. David Ozretić), besides endovascular treatment methods (embolisation treatment of vascular malformations, catheter angioplasty), the center performs emergency therapy for ischemic stroke (systemic and intraarterial thrombolysis), mechanic endovascular thrombectomies as well as new research medical treatments for intracerebral hemorrhage (around 200 case per year). Because of the high level of expertise of the whole stroke team and the technical equipment the center is able to offer a high quality care of the most difficult stroke patients.
Angiosuit in Referral Centre – performing Wada test: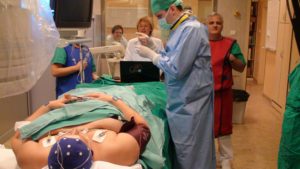 The Referral Centre for Epilepsy of the Ministry of Health of the Republic of Croatia, is equipped according to ILAE guidelines as Level 4 Epilepsy Centre, with all diagnostic and therapeutic procedures for epilepsy patients according to world standards. Since 2010, the center has been growing and expanding collaborations thank to the help of several players (Prof. S. Hajnšek, Head of the Department of Neurology, Prof. J. Paladino, Head of the Department of Neurosurgery, Prof.  Ž. Reiner, and Prof. J. Wellmer and his team from the University of Bonn, Germany. Other essential players are: Prof. Ž. Petelin Gadže, neurologist, Prof. G. Mrak, neurosurgeon, Dr. A. Desnica,  neuroradiologist, Prof. M. Radoš and Dr. R. Petrović, nuclear medicine specialists, Prof. Velimir Išgum, and Dr. M. Krbot Skorić. The center performs lesions, such as selective amygdalohippocampectomies, anterior temporal resections, and vagal nerve stimulation. The center also performs successfully invasive EEG monitoring (with cortical stimulation procedure using Nicolet Cortical Stimulator) after implantation of depth and subdural strip and grid electrodes. The center is also equipped with a Nicolet portable EEG Device which allows evaluating patients in the several settings (intensive care unit, emergency, and etcetera). The device also allows performing the Wada test (intracarotid amobarbital test) for the determination of eloquent region in patients candidate for brain surgery (Figure 1-4). The preoperative evaluation of patients with pharmacoresistant epilepsy (preoperative high resolution 3T brain MRI with MR spectroscopy, functional MRI with tractography and hippocampal volumetry) has been improved with MAP07 "Morphometric Analysis Program", which is important in the case of negative MRI or MRI minor cortical dysplasias, complex malformations of cortical development or cases of dual pathology. This program also enables interictal and ictal SPECT and MAP07 co-registration, or SISCOM. In the last 15 years, 80 amygdalohippocampectomies, 20 lesionectomies in patients with cortical dysplasia, and 65 implantations of VNS has been performed. More recently, corpus callosotomies, disconnection procedures, and the "awake brain surgery" program have been performed.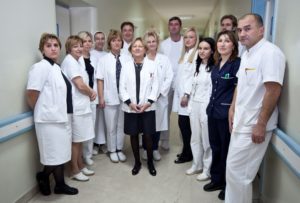 The epilepsy team, Referral Centre for Epilepsy, Ministry of Health, University Hospital Centre Zagreb (from left to the right): J. Dodig, J. Pekčec, S. Nanković, J. Bošnjak, R. Novosel, V. Šulentić, S. Hajnšek, M. Jovanović, B. Gardijan, Ž. Petelin Gadže, I. Kovačević, B. I. Šepec, N. Hederić, B. Radić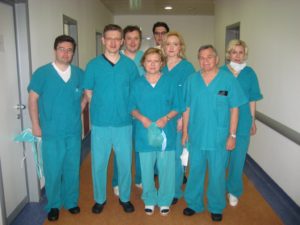 Team of doctors who performed the first brain operation of the patient with pharmacoresistant epilepsy in Croatia, in April  2010, after implantation of depth and subdural strip and grid electrodes and invasive monitoring, Referral Centre for Epilepsy, Ministry of Health, University Hospital Centre Zagreb (from left to the right): Prof. G. Mrak, Dr. A. Desnica, neurosurgeons; Prof. J. Wellmer, (University of Bonn, Germany), Prof. S. Hajnšek, Prof. Ž. Petelin Gadže, Dr. V. Šulentić, Dr. P. Sibila Nanković, Prof. V. Išgum, neurologists)
The "neuromuscular" team: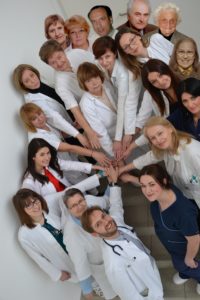 Moreover, in cooperation with Prof. Fran Borovečki, Head of the Centre for Functional Genomics, the center performs genetic analyses for EPM1, EPM2A, and EPM2B mutations in patients with progressive myoclonic epilepsies. A diagnostic genomic panel for simultaneous analysis of 260 genes associated with epilepsy is also available. In 2012, for the first time in Croatia, this Centre has introduced method of next-generation sequencing by sequencer Illumin, that enabled more detailed genome analysis in patients with neurodegenerative diseases.
In 2012 Prof. Maja Relja, Head of the Division for Movement Disorders at the University Hospital Centre Zagreb, collaborated for the EFNS/MDS-ES recommendations for the diagnosis of Parkinson's disease.
The Referral Centre for Demyelinating Diseases of the Ministry of Health of the Republic of Croatia (Head Prof. Marija Bošnjak) uses all diagnostic and therapeutic algorithms according to world standards. Specific therapy for multiple sclerosis patients  is provided by Croatian Institute for Health Insurance.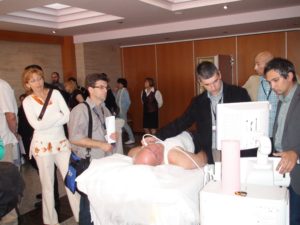 Moments from the International Summer school of Neurosonology in Zadar, Croatia, organized by University Hospital Zagreb – Neurology dept., and Zadar hospital – Neurology dept.
And finaly, If someone choose to study or work in Croatia certainly will not regret the decision. Indeed, what links together all those different  territories are the friendly people who live in them and their inexhaustible and invincible zest for life.  The Croats are justifiably proud of the wealth of vacation opportunities that their homeland offers, from national parks (seven of them, all entirely unique and of exquisite, breath-taking beauty), modern beach resorts, hiking and scuba diving, whitewater rafting, to museums, churches and archeological sites.
Now that Croatia has achieved its hard-won independence, there is a new emphasis o­n the traditions that kept its sense of nationhood alive throughout the eras of foreign domination. Colourful embroidered costumes, traditional music and dances and regional culinary specialties link the Croatian people with their ancestors. However, Croatia is no Balkan backwater locked in a time warp, but a modern European country in transition that is wide open to the West and the future.
Prof. Zdravka Poljaković, Head of Neurology, University Hospital Zagreb