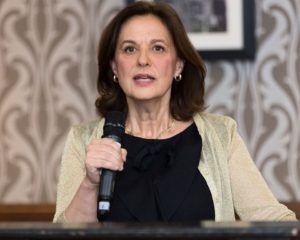 Mrs. Ann Little, President of the EFNA, interviews Prof. Paola Giunti, winner of the 2016 EFNA European Health Professional award.
Ann Little: Prof Giunti, congratulations for winning the 2016 EFNA Neurology Advocacy Award for Health Professional. Your work in advocating for ataxia patients is highly commended. Could you briefly explain to us the main concept behind your Ataxia Centre in London, which has been put forward as an example of best clinical practice?
Paola Giunti: I established the Specialist Ataxia Centre in London over 10 years ago to address my patients' needs. The ataxias are rare complex disorders, the majority of which are truly multi-systemic with a number of extra-cerebellar symptoms requiring multi-specialist care. The Ataxia Centre was created as an attempt to concentrate research and expertise in this group of rare diseases, where even secondary care (hospital-based) neurologists lacked in-depth knowledge. The aim was to create a robust translational service, in partnership with the Ataxia UK patients' support group that could provide a complete package of care, including diagnosis and access to allied professionals with an interest in ataxia.  With their support I was able to set up the Specialist Ataxia Centre, and in 2005 it received accreditation by Ataxia UK. The requirements for such accreditation includes continuity of care, with patients seeing the same neurologist expert in ataxias, with a holistic multidisciplinary approach and with a strong translational research component to improve knowledge about the conditions. An important feature of the Centre is the inclusion of Ataxia UK representatives. These are volunteers with direct personal experience of ataxia, who are available to talk to patients after the clinic appointment. They have an active role supporting patients emotionally, and providing with practical advice and information, as well as assisting in obtaining feedback on the service that is then used to shape the service in keeping with patients' needs.
The success of the Ataxia Centre can be measured by the patient database growing more than ten-fold, from 64 in 2005 to more than 800 a year today. I do believe that the ataxia model may well serve as a blue print for the development of multi-disciplinary/multi-professional teams to help manage other chronic debilitating conditions.
Ann Little: Ataxia is a rare disorder and maybe not a condition that many neurologists will treat often during their career. In terms of education of young neurologists, what do you think are the essential areas to focus when teaching an approach to diagnose, treat and manage an ataxia patient – and how could this be incorporated into a future EAN Congress programme/teaching course?
Paola Giunti: The ataxias are a heterogeneous group of neurodegenerative conditions. Over a 100 different disorders can lead to ataxia, so diagnosis can be clinically difficult. Many of the ataxias are inherited, and there are now new ataxia panels emerging for testing many ataxia genes in one go, which will speed up and improve diagnosis. Ataxias are complex long-term progressive conditions, impairing coordination and balance, and often giving tremor, uncontrollable muscle spasms, as well as vision and speech defects. Education of young neurologists needs to stress that multidisciplinary care is essential in managing associated symptoms and preventing further complications. The presence of ataxia in the teaching programme in the EAN congress will facilitate spreading the knowledge of this group of diseases among young neurologists. It will be also good to establish a dedicated scholarship programme involving centres with special expertise on this subject. We have worked in partnership with Ataxia UK and a group of UK clinicians in publishing Ataxia Medical Guidelines, designed to help healthcare professionals manages this group of complex conditions. These are available on the ataxia UK website. www.ataxia.org.uk.
Ann Little: In the future years, where do you think the focus of ataxia research will/should lie? Do you see any new discoveries on the horizon?
 Paola Giunti: There is the urgent need to develop disease modifying treatments to at least slow down the progression of the condition, as the majority of the ataxias do not have any. We are making progress and there are an increasing number of clinical trials now taking place, but more work needs to be done. I am heavily involved in natural history studies for the more common ataxias and I believe this is essential 'information gathering' for future trials. At the Ataxia centre we not only are involved in clinical research but we are also carrying out a number of basic science research studies in order to understand the in-depth mechanisms causing the ataxias and identify therapeutic targets.
Ann Little: You work very closely with the national and European ataxia patient organisations. Why do you think it is important for neurologists to partner with patients and patients' organisations?
Paola Giunti: I strongly believe in working in partnership with patient groups to support patients with this rare group of condition, and to progress research towards much needed treatments. I am regularly invited by patient groups to attend meetings and conferences to talk about research and to be on Q&A panels. This is highly valued by patients and I am honoured to be asked as we are always learning from each other. In addition, I work in partnership to produce leaflets and importantly the Ataxia Medical Guidelines, a project initiated and developed by Ataxia UK.
Involving patients in research is highly important too. Including the patient voice and ensuring the research we do is relevant is essential and patient groups can facilitate and contribute to this process. Patient groups have a lot to offer and I would certainly recommend other neurologists to partner with them as I have done. Ataxia UK has helped me in recruitment to research studies, improving research study design, produce information on my research and disseminate it to patients and also introductions to pharmaceutical companies working in this area. We are working towards a common goal and thus it makes working in partnership easy.
More on Prof. Paola Giunti can be found here: https://www.uclh.nhs.uk/OurServices/Consultants/Pages/DrPaolaGiunti.aspx
To read more on EURO-ATAXIA, please see this article.