Atrial Fibrillation – related stroke policy series workshop
European Parliament, Brussels – 25 January 2017
The European Brain council, in cooperation with the EAN – European Academy of Neurology, the ESO – European Stroke Organisation,  the AFA – Atrial Fibrillation Association, the SAFE – Stroke Alliance for Europe,  and the AA – Arrhythmia Alliance has organized a first of a series of workshops dedicated to Atrial Fibrillation (AF), and the risks for stroke.
This first workshop was hosted by MEP Aldo Patriciello, and moderated by Peter O'Donnell, contributing editor at the "Politico".
The speakers taking part in the workshop were:
Peter von Koskull – Stroke Survivor
Dr Bernard Deruyter – European Parliament medical center
Becky Bell  – AF Association and Arrhythmia Alliance
Didier Leys – European Academy of Neurology
Geert Vanhooren – European Stroke Organisation
Antonio Sparano – Neuromed & Albany Medical Center (USA)
Fred Destrebecq, executive director of EBC, introduced the meeting. MEP Patriciello welcomed the initiative, aimed at spreading information and awareness on the risks AF and stroke for the broad population. He also mentioned the major costs that stroke implies for the European healthcare budgets.
Mr. von Koskull brought a personal testimonial on having suffered from a stroke with permanent sequellae. His major message was the importance of peer support for those who had a stroke and the need for more awareness on AF.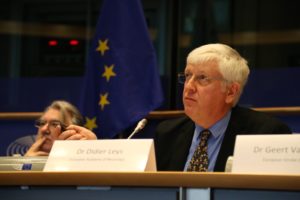 Prof. Leys and colleagues confirmed the need for early detection of AF, that is closely linked to a better awareness among the population on AF, its symptoms (which often are hidden), and the inherent risks for stroke. To note, 18% of strokes are associated with AF – the most common heart rhythm disturbance.
The importance of timely diagnosis and intervention for stroke were stressed by all. Stroke Units with multidisciplinary teams are essential to optimize the care of stroke patients. The need for such units all through Europe can contain the economic burden of the condition. Indeed, the economic impact of stroke is huge. The cost is very high to the health systems also because many stroke patients are still active population.
The meeting was followed by questions from the public and ended at 1.00pm
More on the above meeting is available here.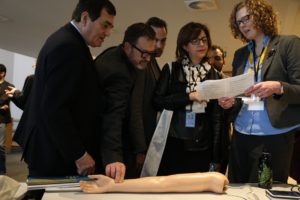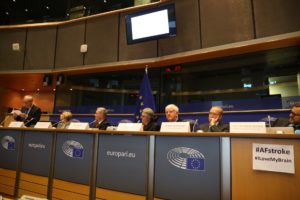 by Eveline Sipido, EAN Liaison officer, and Prof.  Didier Leys EAN Secretary General