After the 8th EBN Exam in Copenhagen 2016 there will be a 9th one at the site of the EAN-meeting, close to the famous canals of the inner city in Amsterdam. 72 candidates showed up in Copenhagen, 67 of them being successful.
The number of participants to the European Board of Neurology exam is growing every year. Some Board Exams are less successful but yet, we are far from the numbers of participants to Board Exams Ophthalmology, Urology, Anesthesiology and others. Several societies send their candidates with financial support and several clinics pay for their candidates, as they see the board exam as part of the postgraduate training in neurology.
Although the political course of Europe is uncertain, there will be an increasing mobility of patients and doctors across the European borders, and we can be sure, one day there will be a strong incitement from national governments to harmonize national exit-examinations and certification of young specialists. Those who already took part in a board exam may then benefit from their fellow-title that is a sign of excellence anyway. On the other hand, a high number of European participants is crucial already now to improve the quality of the board-exams and to set European exam-standards.
Candidates in Copenhagen had to solve 100 multiple choice questions, 60 of these could be answered with help of a hard copy reference source of choice. In the future we will investigate the possibility of using internet reference sources as well. For the oral part each candidate had to prepare a 'critical approval of a topic' and an essay with a powerpoint presentation on a topic in the field of ethics or global health related to neurology. We introduced these oral exams to make the candidates able to show their communication-skills and competencies to approach scientific problems. To level language-barriers, candidates were offered to use their own language whenever possible, and examiners were instructed to examine substantiality, not language-skills and to help the candidates as much as possible. If needed, candidates got personal help and feedback via internet with the making of their submissions.
A full report as well as all information concerning the exam 2017 can be found on our website:
In 2016 we had an audit from the CESMA (council for European specialist medical assessment) and we got a most positive and stimulating judgment with some sound advices for the future. Also the candidates gave their feed-back with positive but also some critical comments that will be used to improve future exams.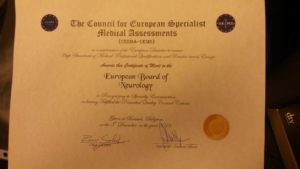 A new feature of last year's exam is that we now provide our candidates with a full personal report on their achievements to make it possible to improve themselves in fields where they did not perform optimally.
This year we will start a co-operation with a Swedish company providing specialist technical support to medical exams and we entertain much hope for further professionalization of our board exam.
We hope to motivate more and more young neurologists to take the challenge of the EBN exam and postgraduate training institutions to support their trainees coming to Amsterdam.
We also welcome colleagues who are interested to help us with providing input and help for next exams. Do not hesitate to contact me in case of further questions.
Jan BM Kuks, professor of clinical neurology and medical education
University Medical Centre Groningen, the Netherlands
Chair Examination Committee European Board of Neurology
j.b.m.kuks@umcg.nl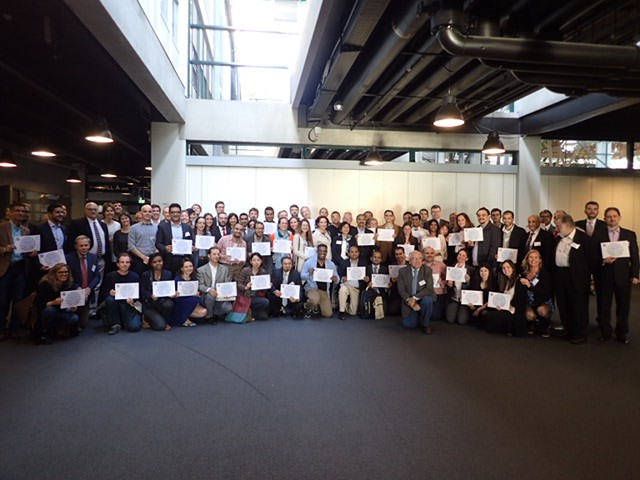 Successful candidates of the 8th EBN Exam in Copenhagen 2016 showing their certificates