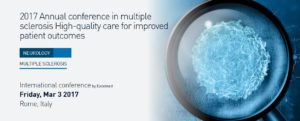 Annual conference in multiple sclerosis: High-quality care for improved patient outcomes
March 3rd 2017, Rome, Italy
Novel immunological insights into multiple sclerosis (MS) pathogenesis have revolutionized the traditional therapeutic approach. Numerous therapeutic options are available for individuals with MS, but the wide choice may present challenges for clinicians. Selecting the most appropriate treatment – one that targets specific disease manifestations and fulfils patient requirements − has created the need for individual biomarkers to be developed. There is also increasing demand for detailed information about MS to be widely available, particularly with regard to the risk/benefit profiles of specific treatments. Such information needs to be provided directly to patients, who are active players in the 'therapeutic contract'. The aim of this programme is to update each of these emerging issues in MS, offer practical suggestions for disease management and enhance communication with patients in daily practice.
More information can be found here.
---
ECTRIMS FOCUSED WORKSHOP – "Advancing Trial Design in Progressive Multiple Sclerosis (in association with the Progressive MS Alliance)"
March 9th -10th 2017, Rome, Italy

This workshop will examine trial designs in progressive MS with a wide variety of experts from clinical, methodological, outcome and pharmaceutical backgrounds. Modelling and illustration with examples from real and derived data – sets is encouraged. The planned output is a position paper
That will set out what is known, what is under current development and areas to be pursued to take the field forward.
More information can be found here.
---
4th International Porto Congress of Multiple Sclerosis
March 9th – 11th 2017, Porto, Portugal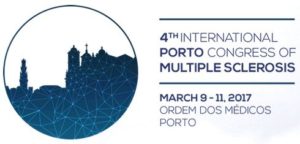 This congress is the next edition of a bi-annual event that has conquered its place in the field of MS due to the high quality of our speakers, the up-to-date topics and the practical format enabling proximity between everybody.
Accompanying the rapid development of science, technology and lifestyles, the 2017' Congress has a revamped model and program whereby various aspects cross over, covering the most recent advances in the treatment of demyelinating diseases, a broad view of MS management by different health professionals from distinct parts of the globe as well as therapeutic innovation and future tools in the digital era.
More information can be found here.
---
The 12th World Congress on Brain Injury
March 29th – April 1st 2017, New Orleans, United States

The International Brain Injury Association's World Congress on Brain Injury is the largest gathering of international professionals working in the field of brain injury (traumatic and acquired, including stroke). The next World Congress will take place March 29 – April 1, 2017, in New Orleans, Louisiana.  Over 1400 international delegates attended the World Congress when it was last held in the United States in 2014 in San Francisco.
Delegates to the World Congress on Brain Injury are comprised of rehabilitation physicians, neurologists, neurosurgeons, psychiatrists, psychologists, basic/translational scientists, speech pathologists, occupational therapists, physiotherapists, social workers, nurses, case managers, advocates and all other professionals involved in the research or treatment of brain injury and/or stroke.
As the seminal event in brain injury, the Congress features an outstanding faculty of internationally recognized speakers delivering platform lectures, panels and workshops. State of the art research is presented dealing with every aspect of brain injury from coma to community. The Congress provides didactic opportunities for researchers and clinicians interested in advancing their knowledge in brain injury science, medicine and care.
More information can be found here.