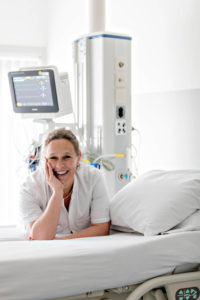 by Catharina G. Faber
Neuromuscular Centre the Netherlands
The field of neuromuscular diseases in the Netherlands is characterized by a longstanding tradition of collaboration between seven neuromuscular centres of the university hospitals. This collaboration has been formalised since 1993, when the Dutch Neuromuscular Research Centre (Stichting ISNO) was founded. ISNO has stimulated the focussing of the individual neuromuscular centres upon specific disorders (e.g. on ALS or Guillain-Barré syndrome).  ISNO has continued in 2016 as Neuromuscular Centre Netherlands, with the aim to encourage and facilitate research, and to improve treatment of neuromuscular disorders. It forms a platform bringing together Dutch neuromuscular specialists and researchers in a network of excellence. It collaborates especially with the Dutch Neuromuscular Fund (the Prinses Beatrix Spierfonds) and the neuromuscular patients organization (Spierziekten Nederland).  The Neuromuscular centre the Netherlands organises a yearly symposium on neuromuscular diseases for neurologists, paediatricians, and physiatrists, aimed at improving knowledge on neuromuscular diseases. Furthermore, the Centre has successfully developed a curriculum for a neuromuscular fellowship for neurologists, which intends to improve neuromuscular knowledge throughout the country.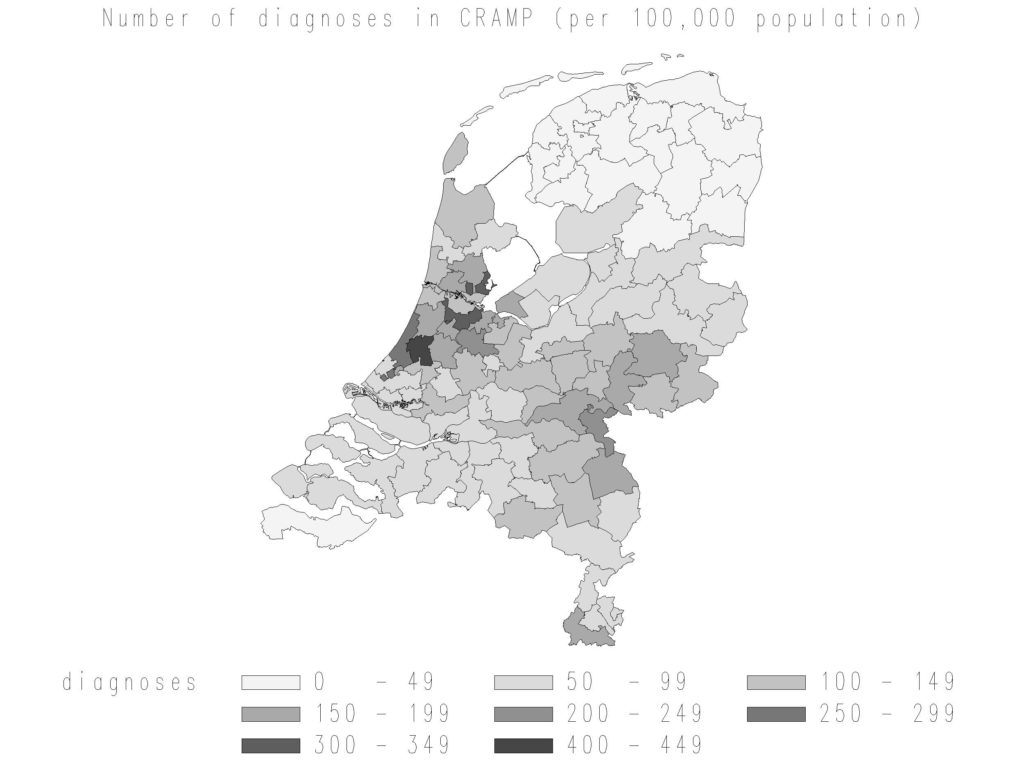 Data of the Dutch national registry for neuromuscular diseases, the Computer Registry of All Myopathies and Polyneuropathies (CRAMP database), showing the number of diagnoses in the registry per 100.000 population. (graphic by Hanneke Deenen)
National registry
The Neuromuscular Centre the Netherlands has developed a national registry for neuromuscular diseases, the Computer Registry of All Myopathies and Polyneuropathies (CRAMP database).1 The Dutch CRAMP database started in 2004, and was the first nationwide registry that did not focus on a specific disorder, in contrast to various registries across the world. It allows registration of a vast number of neuromuscular disorders, including certain neuromuscular features (such as myalgia, cramps, dys- or atrophy of the muscle) in case a classified neuromuscular diagnosis is lacking. One of the incentives was to gather up-to-date nationwide epidemiological data regarding neuromuscular disorders. From 2004 until 2015, over 25,000 individuals with a neuromuscular disorder have beeb registered in CRAMP, of whom 56% were men.2 CRAMP contained 90% of all reimbursed diagnoses in university medical centres in 2010, meaning that the registration coverage is high. This data is important in the daily practice both in the diagnostic process of individuals and in other health care issues like assessment of trial feasibility and planning of care.
Expert centres
The longstanding collaborative effort within the Neuromuscular Centre the Netherlands has stimulated research, and also has led to numerous collaborative papers. 3-14 Another purpose of the Dutch Neuromuscular Centre is the development of expertise centres for several neuromuscular diseases, such as myasthenia gravis, myotonic dystrophy, ALS, facioscapulohumeral muscular dystrophy, inflammatory neuropathies, small fibre neuropathy, mitochondrial myopathies, Pompe disease, and Duchenne muscular dystrophy. This development, acknowledged by the Dutch government, has further stimulated excellent patient care and research, and ultimately resulted in the acknowledgment of all these centres as part of the European Reference Network EURO-NMD, coordinated by the group in Newcastle upon Tyne.
The collaborative effort of the Dutch Neuromuscular centres within the Neuromuscular Centre the Netherlands emphasises the strong benefits of collaboration, resulting in improvement of patient care as well as clinical and preclinical research, and has proven its success over many decades.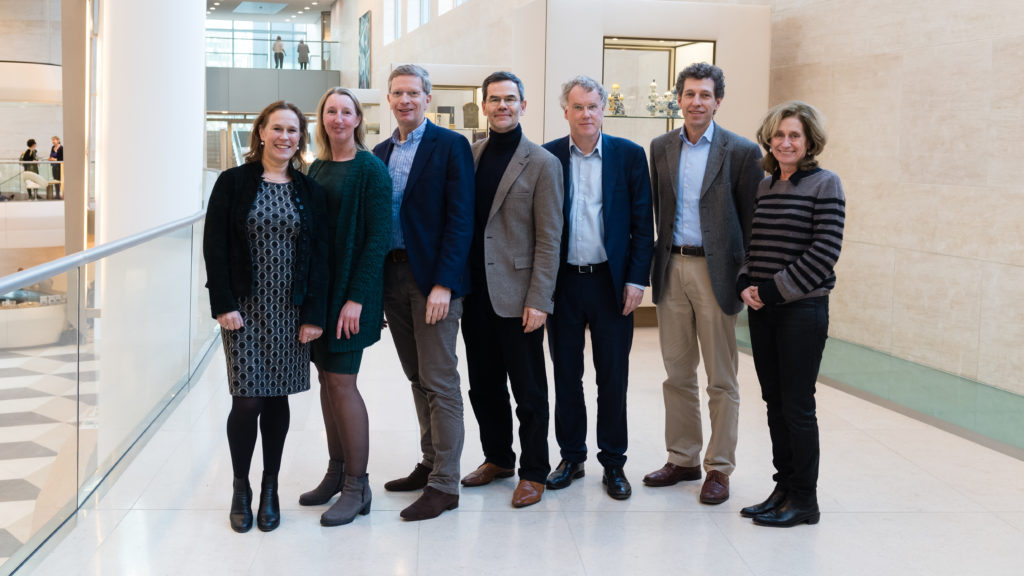 Members of the Neuromuscular Centre the Netherlands, from left to right: Catharina G. Faber, Maastricht University Medical Centre, Maastricht; Anneke J. van der Kooi, Academic Medical Centre, Amsterdam; Pieter A. van Doorn, Erasmus Medical Centre, Rotterdam; Baziel G.M. van Engelen, Radboudumc, Nijmegen; Leonard H. van den Berg, chair, University Medical Centre Utrecht, Utrecht; Jan J.G.M. Verschuuren, Leiden University Medical Centre, Leiden; Nicolette C. Notermans, University Medical Centre Utrecht, Utrecht. Not in the picture: Jan B.M. Kuks, University Medical Centre Groningen, Groningen; Frank Baas, Academic Medical Centre, Amsterdam; Robert F. Pangalila, Rijndam Rehabilitation Centre Rotterdam, Erasmus University Medical Centre Rotterdam.
References
van Engelen BGM, van Veenendaal H, Van Doorn PA, et al. The Dutch neuromuscular database CRAMP (Computer Registry of All Myopathies and Polyneuropathies): development and preliminary data. Neuromuscul Disord 2007;17(1):33–7.
Deenen JCW, Van Doorn PA, Faber CG, et al. The epidemiology of neuromuscular disorders: Age at onset and gender in the Netherlands. Neuromuscul Disord 2016;26(7):447–52.
Badrising UA, Maat-Schieman MLC, van Houwelingen JC, et al. Inclusion body myositis. Clinical features and clinical course of the disease in 64 patients. J Neurol 2005;252(12):1448–54.
van Schaik IN, Eftimov F, Van Doorn PA, et al. Pulsed high-dose dexamethasone versus standard prednisolone treatment for chronic inflammatory demyelinating polyradiculoneuropathy (PREDICT study): a double-blind, randomised, controlled trial. Lancet Neurology 2010;9(3):245–53.
Titulaer MJ, Wirtz PW, Kuks JBM, et al. The Lambert-Eaton myasthenic syndrome 1988-2008: a clinical picture in 97 patients. J Neuroimmunol 2008;201-202:153–8.
Trip J, Drost G, Verbove DJ, et al. In tandem analysis of CLCN1 and SCN4A greatly enhances mutation detection in families with non-dystrophic myotonia. Eur J Hum Genet 2008;16(8):921–9.
de Vries JM, van der Beek NA, Hop WC, et al. Effect of enzyme therapy and prognostic factors in 69 adults with Pompe disease: an open-label single-center study. Orphanet J Rare Dis 2012;7(1):73.
Brugman F, Veldink JH, Franssen H, et al. Differentiation of hereditary spastic paraparesis from primary lateral sclerosis in sporadic adult-onset upper motor neuron syndromes. Arch Neurol 2009;66(4):509–14.
Vanhoutte EK, Faber CG, van Nes SI, et al. Modifying the Medical Research Council grading system through Rasch analyses. Brain 2012;135(5):1639–49.
Van Koningsveld R, Schmitz PIM, Meché FGA, et al. Effect of methylprednisolone when added to standard treatment with intravenous immunoglobulin for Guillain-Barré syndrome: randomised trial. Lancet 2004;363(9404):192–6.
Linssen WH, Notermans NC, Van der Graaf Y, et al. Miyoshi-type distal muscular dystrophy. Clinical spectrum in 24 Dutch patients. Brain 1997;120 ( Pt 11):1989–96.
Cox FM, Titulaer MJ, Sont JK, Wintzen AR, Verschuuren JJGM, Badrising UA. A 12-year follow-up in sporadic inclusion body myositis: an end stage with major disabilities. Brain 2011;134(11):3167–75.
Goselink RJM, Schreuder THA, Mul K, et al. Facioscapulohumeral dystrophy in children: design of a prospective, observational study on natural history, predictors and clinical impact (iFocus FSHD). BMC Neurol 2016;16(1):138.
Deenen JCW, Arnts H, van der Maarel SM, et al. Population-based incidence and prevalence of facioscapulohumeral dystrophy. Neurology 2014;83(12):1056–9.
Prof. C. G. Faber works at the Department of Neurology, MUMC, Maastricht, The Netherlands