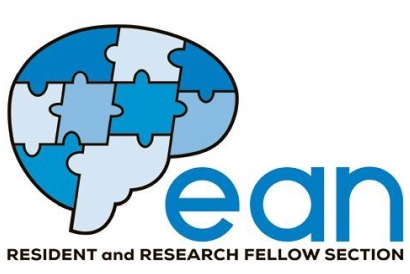 Viktoria Papp1, Lisa Klingelhoefer2, Panagiotis Zis3, Marta Melis4, Miguel Pereira5, Antonella Macerollo6, Anna Sauerbier7
The link between both scientists and clinical health professionals in Neurology among the European countries is crucial to maintain and improve the continuous development of Neurology in Europe. In order to ensure the integrity of the European neurological community, it is important to overcome geographical and age gaps and to create links aiming for "one common" neurological understanding in Europe and worldwide across all generations (1,2). The resident and research fellow section (RRFS) of the European Academy of Neurology (EAN) was formed to address these concepts (3,4).
Here, we would like to give a brief overview of the innovations within EAN-RRFS, the activities provided in 2017 and the future direction.
RRFS is part of EAN and includes a core RRFS Office (chair, secretary, treasurer and past-chair), RRFS-delegates in the EAN Committees and Scientific panels, a working group of representatives of junior national societies and active members (Table 1.). Annually, a new treasurer is elected during the General Assembly at the EAN congress who may become the secretary one year later, afterwards the chair, and later the past-chair of EAN-RRFS.
Becoming a member of the RRFS of EAN
Members of RRFS have individual member status within EAN. Members have the possibility to receive the journal of the Academy (European Journal of Neurology) at a reduced rate. Furthermore, members have free access to eBrain, which is an educational platform focused on Neurology and Neurosurgery topics.
EAN resident individual members have several advantages including reduced registration fees at EAN annual congresses. Furthermore, Residents and Fellows are allowed to take part in the activities of the section as well as of the EAN. The latter activities include being delegates in the EAN committees as well as in scientific panel. Grants for EBN exam and congresses are provided by RRFS for its members.
RRFS members are actively involved in the EAN page,9 which is the monthly newsletter of the Society.
Scientific activities for RRFS members
RRFS delegates in different EAN scientific panels have interesting and challenging tasks such as setting up new European neurological guidelines and planning the scientific program of the EAN congress. Keen RRFS members are also invited to help with abstract reviewing and poster co-chairing (Table 2).
Furthermore, we are creating a scientific survey to assess junior`s experience and interest in the field of clinical and basic research in neuroscience.
Representatives of junior national societies in RRFS
Last year RRFS has introduced a new initiative and set up a working group of national representatives of junior national societies within EAN-RRFS to ensure european-wide representation and equally distributed information.
The overall mission of junior national representatives is to facilitate and enhance communication between juniors within neuroscience and education across Europe, allowing junior neurologists to exchange experiences and knowledge. As a consequence, we believe that in future this will strengthen the links between the national junior associations and the international neurological communities. By stronger links the highest standards of evidence-based neurological education are more likely to be promoted throughout Europe. With the help of national representatives within the EAN-RRFS in general, aims of EAN and EAN-RRFS might be easier promoted throughout Europe as well as the other way around national perspectives of junior members might be better promoted within the EAN. Furthermore, the involvement of national societies offers the chance to encourage and support junior members with interest in any field of neurology in active participation in the international platform in an easier way.
We aim to involve a representative of all national junior associations of the different countries within Europe and to further encourage the development of associations of junior neurologists in countries where those are currently not yet existing. We hope to recruit as many representatives from different European countries as possible by the end of the year. So please get in touch with us via rrfs@ean.org – we want you to participate!
during the 3rd Congress of the European Academy of Neurology (24th to 27th of June 2017, Amsterdam, Netherlands)
EBN exam
On the Friday prior to the 3rd Congress of the European Academy of Neurology, the next EBN exam will take place. RRFS aims to encourage RRFS members to take part in EBN exam and offer grants to support the payment of the registration fee. RRFS members registered for the exam can apply for EBN grant provided by RRFS.
Booth
During the congress, RRFS office members will be available at the LEARN and HOME area of the EAN booth in order to provide up-to-date information about membership, travel/EBN grants and other conference activities.
Special session
On the 25th of June, the special session of RRFS will be held in a new format of round table discussions to create a more informal environment between juniors and senior researchers. Participants will meet worldwide renowned professors around Europe covering different field of interests (movement disorders, multiple sclerosis, epilepsy, etc.) as well as basic and clinical neuroscience. This provides a unique chance for juniors to learn more about academic careers and research as well as clinical opportunities around Europe in general. Furthermore, participants can get individual inspiration and personal advice for their research projects, their career planning as well as improve their professional network – and all of this in a comfortable atmosphere.
Juniors will have the great opportunity to have discussion with Professor Massimo Filippi (Italy) neuroimaging research, Professor Sandor Beniczky (Denmark) neurophysiologist, Professor Aksel Siva (Turkey) expert in neuroimmunology and Professor Ray Chaudhuri (United Kingdom) and Professor Per Odin (Sweden/Germany) experts in movement disorders.
Hospital visit
In collaboration with the Dutch Junior Neurology Association the traditional hospital visit and social event is organised on the 25th of June. Participants will be introduced to the local neurology education while visiting the Department of Neurology at VU University Medical Center in Amsterdam. Registration is necessary due to limited places. If you would like to join us, send an email to rrfs@ean.org.
Regional teaching course
The capital of Bulgaria, Sofia is giving place for the next regional teaching course between 5th to 8th of October 2017.
The RTC will focus on interventional vascular neurology, nonvascular neurosonology and, on the third day, lectures about pain and headache, neurorehabilitation and autonomic dysfunction will be provided. RRFS will be represented as well to share career advices for junior neurologists.
Future innovation
RRFS with support of the junior representatives of the national societies, is actively involved in establishing a mentoring program in Europe that can help talented juniors to receive support in their career and during their way of professional development.
Conclusion
As an integrated part of EAN, the Resident and Research Fellow Section represents the interests of junior neurologists. By providing education, scientific opportunities and social events RRFS would like to open the door for chances in career and professional development of juniors throughout Europe. In contrast to the latest general developments with increasing nationalization, we believe that team- and networking of different nationalities with the exchange of knowledge, experience and opinions should be the modern way of spreading a neurological spirit throughout Europe and further into the world. RRFS is proud to provide a platform for juniors believing a multifarious and diverse community acting as one.
Reference:
Bassetti CL, Hughes R. The European Academy of Neurology is founded : a fundamental step linking the glorious past with our future challenges. Eur J Neurol. 2014;(21):809–13.
The EAN : a new hope for European integration. Lancet Neurol. 2011;13(7):637.
Papp V, Balicza P, Sauerbier A, Zis P, Gyorfi O, Macerollo A. European Association of Young Neurologists and Trainees in 2016: the year of changes and the introduction of the Residents and Research Fellows section of the European Academy of Neurology. Eur J Neurol. 2016;(23):e49-51.
Györfi O, Moarcas M, Balicza P, Macerollo A, Sellner J. The European Association of Young Neurologists and Trainees in 2014 : the dream of a united European neurology enters the limelight. Eur J Neurol. 2014;(21):941–5.
Table. 1 The EAN-RRFS Office members and representatives in EAN committees in 2017
| | | |
| --- | --- | --- |
| Function | Name | Country |
| Chair | Viktoria Papp | Aarhus, Denmark |
| Secretary | Anna Sauerbier | London, UK |
| Treasurer | Lisa Klingelhöfer | Dresden, Germany |
| Past-Chair | Peter Balicza | Budapest, Hungary |
| Education Committee | Miguel Pereira | Coimbra, Portugal |
| Liaison Committee | Marta Melis | Cagliari, Italy |
| Teaching Course Sub-Committee | Viktoria Papp | Aarhus, Denmark |
| Quality Assurance Sub-Committee | Panagiotis Zis | Sheffield, UK |
| EBN delegate | Panagiotis Zis | Sheffield, UK |
Table 2. The current RRFS representatives in EAN scientific panels
| | | |
| --- | --- | --- |
| Scientfic panel | Name | Country |
| Dementia and cognitive disorders | Sandra Vujović | Bosnia and Herzegovina |
| Multiple sclerosis | Antonio Carotenuto | Italy |
| Stroke | Diana de Sousa | Portugal |
| Sleep-wake disorders | David Schreier | Switzerland |
| Neuroepidemiology | Maria B. Stoyanova | Bulgaria |
| Neuro-ophthalmology and otology | Roman Schniepp | Germany |
| Palliative care | Katarina Ivana Tudor | Croatia |
| Neuro-oncology | Maria-Lucia Muntean | Germany |
| Neurogenetics | Karolina Dziezyc | Poland |
| Neurorehabilitation | Rémy Phan Ba | Belgium |
| Neurotoxicology | Marco Spinazzi | Italy |
| Epilepsy | Vincent Keereman | Belgium |
| Infectious diseases | Elena Cecilia Ildiko Rosca | Romania |
| Movement disorders | Antonella Macerollo | United Kingdom |
| Autonomic nervous system disorders | Simone Vigneri | Italy |
| Child neurology | Magdalena Ogrodnik | Poland |
| Neurophysiology | Panagiotis Zis | United Kindgom |
| General neurology | Monica Margoni | Italy |
| Higher cortical functions | Miguel Pereira | Portugal |
| Muscle disorders | Paolo Ripellino | Switzerland |
| Neurocritical care | Simona Alexandra Beniczky | Denmark |
| Neuroimmunology | Domizia Vecchio | Italy |
| Headache | Vana Kosta | Croatia |
| Neurosonology | Raluca Badea | Romania |
1Department of Neurology, Aarhus University Hospital, Aarhus, Denmark
2Department of Neurology, Technical University of Dresden, Dresden, Germany
3Department of Neurology, Sheffield Teaching Hospitals NHS Foundation Trust, Sheffield, United Kingdom
4Neurology Service, Department of Medical Science and Public Health, University of Cagliari, Cagliari, Italy
5Neurology Service, University Hospital of Coimbra, Coimbra, Portugal
6UCL Institute of Neurology, Queen Square, Neurology, London, United Kingdom
7Department of Neurology, King´s College London and King´s College Hospital,
London, United Kingdom