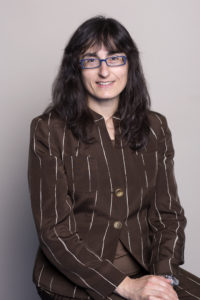 by Elena Moro
For July 2017, we have selected: Fernandez HH, Factor SA, Hauser RA, et al. Randomized controlled trial of deutetrabenazine for tardive dyskinesia. Neurology 2017;88:2003-2010.
Tardive dyskinesia (TD) is a relatively frequent complication of antipsychotic treatment. TD can be observed in any part of the body, can be very disabling, and often persists even after stopping the causative medication. Conventional tetrabenazine has been used to treat TD, due to its inhibitory effect on presynaptic vesicular monoamine transporter 2 (VMAT2). Although effective, conventional tetrabenazine is typically given three times daily, and has frequent relevant side effects, such as depression, somnolence, akathisia, parkinsonism, purportedly stemming from the peaks and troughs of its pharmacokinetic profile, that greatly impact its broader use. Deutetrabenazine is a new highly selective VMAT2 inhibitor that contains deuterium, a naturally occurring hydrogen element that attenuates the metabolism of the compound, thus having a more stable pharmacokinetic profile, requiring less frequent dosing with fewer side effects.
The efficacy, safety and tolerability of deutetrabenazine were studied in this randomized, double blind, parallel-group study involving 46 centers in USA and Europe. Patients having ≥3-month duration of TD,  ≥3-month history of exposure to dopamine receptors antagonists, and a score ≥6 in the Abnormal Involuntary Movement Scale (AIMS) were included. The primary outcome was the difference in the AIMS score before and after the 12-week treatment with deutetrabenazine. The AIMS was rated by two blinded raters who reviewed the video recordings of the clinical assessments. Flexible dosing was employed and deutetrabenazine could be used up to 48 mg/day. Secondary outcomes included proportion of patients with treatment benefit on the Clinical Global Impression of Change (by the treating physician), and Patient Global Impression of Change. An intent-to-treat approach was used to analyze the data, together with a linear mixed model for repeated measurements.
Fifty-eight patients received deutetrabenazine and 59 received placebo; 52 patients in each group completed the study. The deutetrabenazine dose was on average 38.8 (±7.92) mg/day. At 12 weeks, the AIMS scores were significantly improved in the active medication group compared to placebo (SE: -3.0 (0.45) vs -1.6 (0.46), p = 0.019; treatment difference -1.4 (0.6), 95% CI -2.6 to -0.2)). No significant differences were found in secondary outcomes between groups.
Adverse events were similar between groups. Notably, the incidence of depression and suicidal ideation were low and did not vary between groups, and no worsening on parkinsonian features was reported.
"This study provides Class I evidence that deutetrabenazine can be effective in improving TD and, more importantly, it is well tolerated", says the PI of the study, Prof. Hubert Fernandez, Center for Neurological Restoration, Cleveland Clinic, Cleveland, Ohio, USA. "Remarkably, patients could be maintained on concomitant treatment with their psychotropic drugs for their psychiatric comorbidities without additional side effects. There was also a trend to better improvement from deutetrabenazione in patients with more severe AIMS scores."
"It remains unclear why treating physicians and patients did not appreciate an improvement with the active drug compared to placebo based on the CGIC and PGIC", says Prof. Michele Tinazzi, Division of Neurology, University of Verona, Italy. "These findings may be related to the difficulty in appreciating changes in TD by the patients and their treating psychiatrists, and to the significant placebo effect on the AIMS that could have had an impact on the subjective measurements. Nevertheless, similar to the reports on Huntington's chorea, deutetrabenazine appears to be a very useful and safe drug to treat TD, especially in patients still needing their antipsychotic treatment."
The other nominees for the July 2017 paper of the month are:
Liu B, Fang F, Pedersen NL, et al.  Vagotomy and Parkinson disease. Neurology 2017;88:1996-2002. To assess the potential role of vagotomy in developing Parkinson's disease (PD), the authors analyzed data from the national Swedish registries conducting a matched-cohort study. Vagotomy and PD were identified from the Swedish Patient register. PD incidence was 61.8 between vagotomized patients and 65.5 between controls. Vagotomy was found to be not associated with the risk of PD.
Tepper S, Ashina M, Reuter U, at al. Safety and efficacy of erenumab for preventive treatment of chronic migraine: a randomized, double-blind, placebo-controlled phase 2 trial. Lancet Neurol 2017;16:425-434. Efficacy and safety of the human monoclonal antibody enumab against the calcitonin gene-related peptide receptor were studied in this European and North American trial. A total of 667 patients with chronic migraine were enrolled. Both 70 mg and 140 mg of subcutaneous erenumab were effective in reducing monthly migraine days without major adverse events.