ERN-RND: European Reference Network for Rare Neurological Diseases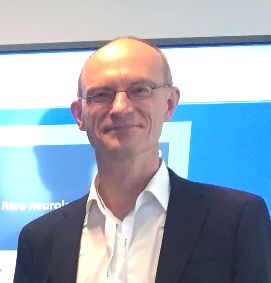 Antonio Federico: What are the aims of your ERN?
Holm Graessner: The aims of the European Reference Network for Rare Neurological Diseases (ERN-RND network) will be:
To increase the overall percentage of rare neurological disease patients with a final diagnosis through information dissemination, improved access to expertise centres, introduction of an EQA scheme for genetic RND diagnostics and virtual multidisciplinary consultation
To improve care of RND patients through better access to high quality care, by sharing, implementing and supervising standards of care, and by accelerating translation of research into clinical practice
To develop, share and implement care pathways and guidelines for all RND groups represented in ERN-RND
To create, develop and enhance constituents' capacity to design, implement and supervise RND training, education and capacity building measures at the level of member states and of the network
To develop a comprehensive and data based European RND cohort to better understand these conditions and thus improve their management and help developing and testing treatments.
Antonio Federico: How is your ERN organised?
Holm Graessner: The network is currently structured through a series of 6 disease expert groups; linked by further 6 horizontal working groups (RND diagnostic pathway, Expert RND care coordination, Training, education and capacity building, Information sharing and disease resources, Guidelines, pathways and best practice, Registries and research) linking specific overarching topics and activities with disease expert groups. The disease expert groups build on existing networks and study groups such the European Huntington's Disease Network. Each work group has specific objectives, related tasks and core deliverables. Each disease expert group is represented in every working group to ensure integration and cooperation. Patient advocates are members of each disease expert as well as working group. Leadership is provided through (i) the network board in which all centers have a seat, (ii) the management team and (iii) the coordinator. EAN is represented in the advisory board through Prof. Jean Marc Burgunder.
Antonio Federico: What activities do you plan for the next years?
Holm Graessner: The key operational targets for the first year are:
Kick ERN-RND off through a highly engaging kick-off meeting involving all stakeholders,
Establish operability of all governance bodies as well as operational bodies such as working groups and disease expert groups,
Establish and disseminate access points for all ERN-RND expert centrres according to their disease expertise (in cooperation with Orphanet) and pilot E-Health virtual consultation platform as ERN-RND access point for external clinicians and patients for obtaining multidisciplinary advice
Consent and disseminate diagnostic standards for all RND covered by ERN-RND
Identify most important care needs for RND and design high impact strategies to address these needs
Build ERN-RND web-site as THE RND information hub including access information to ERN-RND centres, disease resources for patients and clinicians, education/training information, RND quality measures, guidelines and pathways
Antonio Federico: Would you like to cooperate with EAN? If yes, how could this function?
Holm Graessner: We would like to set up a memorandum of understanding between EAN and our ERN to provide a framework for cooperation. Cooperation should then be of mutual interest and benefit and could comprise joint training, teaching and communication activities to increase the visibility of ERNs and raise the awareness for rare neurological diseases (RND). A crucial point of cooperation will be dealing with guidelines for RND in particular methodology and production of jointly prioritized guidelines. This activity could use a guideline (methodology) group based at EAN and the respective EAN scientific panels as appropriate vehicle.
Interview by Professor Antonio Federico, Chair of the EAN Scientific Committee