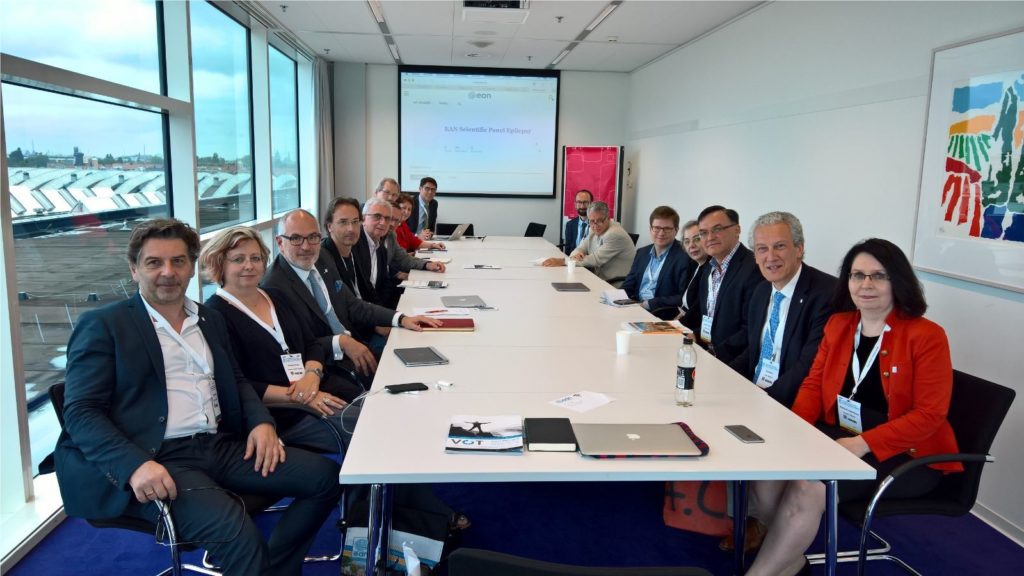 Epilepsy Center, Neurocenter, Kuopio University Hospital and Faculty of Health Sciences, School of Medicine, Institute of Clinical Medicine, University of Eastern Finland, Kuopio, Finland
Date: Saturday,24 June 2017
Time: 15:00–‐16:00h
Place: RAI Amsterdam, meeting room D301
Participants
Management group: Paul Boon (co‐chair), Reetta  Kälviäinen (co‐chair, minutes), Tim von Oertzen, Philippe Ryvlin, Andriy Dubenko
Members: Sandor Beniczky, Milan Brazdil, Hannah Cock, Vladimir Donath,  Alla Guekht, Jera Kruja, Christina Panea, Konrad Rejdak, Eugen Trinka, Basim Uthman
RRFSRepresentative: Vincent Keereman
IBE/EFNA Representative: Ann Little
Memorandum
Welcome
The panel co-chairs welcome all participants, more numerous than in previous years. A particular welcome is extended to Eugen Trinka, chairman-elect of the Commission of European Affairs (CEA) of the International League against Epilepsy (ILAE).
Paul Boon, programme committee chair, informed the members of the new SP policies within EAN SP. The board considers the panels to be the backbone of the EAN and therefore a more active approach will be asked from the panel members. More specifically relevant for the Epilepsy SP is that much has been done during the past year, without it being visible. So both level of activity and communication need to be improved.
Collaboration with ILAE-CEA
A memorandum of understanding has been signed between ILAE-CEA and EAN after preparation by a joint Working Group (WG). The WG developed a set of specific goals for the collaboration under three main areas: joint symposia, guidelines and education. Joint symposia at the ILAE-CEA congresses (ECE) and at the EAN congresses already took place at the congresses in Berlin (2015), Copenhagen and Prague (2016) and in Amsterdam (2017). The next joint symposia are planned at the EAN congress in Lisbon and at the ECE in Vienna (2018). Guidelines European guidelines are to be developed besides the "global" ILAE guidelines (see point 3) and joint educational activities are organized. The activities of the WG will now be ceased and the future collaboration is taken care of by having a representative of EAN Epilepsy SP in the board of ILAE-CEA and a representative of ILEA-CEA board in the EAN Epilepsy SP.
The first three guidelines to be prepared jointly with ILAE-CEA would be status epilepticus, presurgical evaluation of epilepsy surgery and neuromodulation in epilepsy. Collaboration needs to be continued also with the successor of the E-Pilepsy network ( co-ordinated by Philippe Ryvlin, who is complimented with the archievements): the European Reference network for Rare and Complex Epilepsies EpiCARE (co-ordinator: Helen Cross). In future guidelines to evaluate psychiatric co-morbidites of epilepsy and 1st seizure diagnostics will be started after these first three guidelines.
Decision: Co-chair will make a proposal of these three first guidelines (Status epilepticus, Presurgical evaluation and Neuromodulation) to the Scientific Committee. If accepted, representatives of the EAN Epilepsy SP will be chosen for the guideline task forces. A similar procedure needs to be initiated at the level of ILAE-CEA.
Update on Lisbon EAN 2018 congress programme
Epilepsy will be well represented at the next EAN congress in Lisbon. The main theme is ' Neurogenetics-Unravelling hidden diseases'. In the programme Epilepsy Panel has a Symposium called: Diagnosing Genetic Epilepsy, a special session together with ILAE-CEA: Epilepsy surgery in 2018 and a focused workshop: Antibodies causing epilepsy.
Update on Oslo EAN 2019 congress programme new procedure and timelines
The timelines of future EAN congress has changed, as proposed by the PC and approved by the board. The following are the key deadlines for the 2019 Oslo meeting.
-June 2017: Meeting in Amsterdam at congress&call for overarching theme suggestions Oslo ( deadline: 31 August 2017)
-September 2017: Programme Committee (PC) pre-selects overarching theme (by email-in future it will be a topic for the August/September PC meeting)
-November 2017: Board confirms overarching theme&named lectures for Oslo
-April 2018: Call for topic proposals including information on overarching theme (deadline: 30June 2018)
-June 2018: Panels create proposals (at congress); information meeting at congress Lisbon
-August 2018: PC and Teaching Course Sub-Committee  (TCsC) evaluate proposals
-September 2018: PC and TCsC Programme selection meeting
-March 2019: abstract selection meeting
-June 2019: Congress Oslo
Panel members are strongly encouraged to consider topics for epilepsy content in this congress, both in terms of proposing sessions, symposia, focussed workshops, teaching courses and interactive sessions and in submitting abstracts for oral and posters sessions.
Update on Value of Treatment of Brain Disorders White Paper launched by the EBC
Epilepsy SP has participated in the preparation of the Epilepsy part of the Value of  Treatment of Brain Disorders White Paper launched by the European Brain Council on 22th of June 2017 in Brussels. The Epilepsy WG was led by Reetta Kalviainen (reetta.kalviainen@kuh.fi), who can give more information and the VoT White paper can be downloaded at http://www.braincouncil.eu/wp-content/uploads/2017/06/EBC-VoT-White-Policy-Paper.pdf
Communication
Improvement of communication and increasing the activities of the epilepsy sp were discussed. The e-mails to the member of Epilepsy SP come from an e-mail-address Scientific scientific@ean.org, which sometimes might be neglected or interpreted as spam.
It was further discussed that the MG will have telephone contacts throughout the year in order to keep the SP activities going and be better prepared for the next SP meeting In Lisbon. Agenda for next meeting and minutes of the previous meeting will be circulated in time.
Decision: It was decided that Epilepsy SP communication will be done in addition to e-mails also at EAN website at 'My EAN' where Tim von Oertzen created a panel-specific space/group. In future all the important mails will be also put on this group space. Members are welcome to comment and discuss through this website.
O.B.
The representative of ERN EpiCARE. The coordinator of EpiCARE ( Helen Cross) will be invited to participate as a representative to the Epilepsy SP.
The next EAN Epilepsy SP meeting. In Lisbon will be announced by e-mail and through Epilepsy SP space at EAN website and the management group will prepare an agenda to be send beforehand.
by Reetta  Kälviäinen