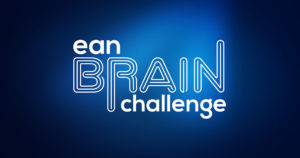 Starting at the EAN congress 2018 in Lisbon, the EAN Teaching Course sub-Committee has proposed to have an educating AND entertaining quiz-show. A dedicated taskforce together with the support of the EAN Scientific Panels worked on the set-up of this educational session – the EAN BrainChallenge.
The aim of the session is to promote a meaningful and interactive learning experience based on clinical study cases designed for both senior and junior neurologists from all over the world. The session will give a platform for interactive learning using quiz questions. The cases not only show how prompt and accurate diagnosis can be achieved despite the complexity of neurology, but also draw attention to rarely recognised conditions.
EAN BrainChallenge
Saturday June 16, 2018
16:45 – 18.15h – Auditorium VI
Two competing teams, a local team from Portugal and an international team, both with highly committed junior and senior neurologist, will try to win the BrainChallenge for the first time. The Audience can serve as a "joker", they can silently vote via the EAN congress app, and can be asked to provide their answers on the screen for the team in need. More information on the two teams will be announced soon.
We invite you all to be part of this new event at the EAN congress – and, when entering the show, just drop you name in the raffle box, and you might be one of the lucky winners for the Monday night networking event.