JUNE 29 – JULY 1, 2018 | EFORIE NORD | ROMANIA
This event was organized by the Foundation of the Society for the Study of Neuroprotection and Neuroplasticity, together with the Romanian Society of Neurology and "Iuliu Hatieganu" University of Medicine and Pharmacy, Cluj-Napoca, Romania. It was endorsed by the World Federation of Neurorehabilitation (WFNR), the European Federation of Neurorehabilitation Societies (EFNR) and the EAN.
After seven successful past events, this meeting represents a platform for exchange of newest scientific information as well as providing space for teaching oriented workshops. This year, the teaching course reached an audience with an interest in this steadily expanding and exciting field (physicians, nurses, therapists, basic scientists etc.). A major resumed topic was where the neurorehabilitation in Europe stands today and where future perspectives in science and education as well as in optimizing services shall go. With 150 participants from seven countries, this event provided three days of intensive talks and debates on a broad range of problems in clinical neurorehabilitation and neuroscience. As there were so many topics discussed, this report can only highlight a few essential areas that were brought up during the three days. The key topics were covered in ten carefully selected  sessions.
In the opening, Dafin F. Muresanu (Romania), Volker Homberg (Germany) and Giorgio Sandrini (Italy) addressed a warm welcome to the participants and reiterated the purpose and objectives of this course. At the opening ceremony, there were present the Romanian Ministry of Health Sorina Pintea and the Health Secretary of State Cristian Grasu awarded, on behalf of the Romanian Goverment, David Good (USA) President-Elect of the WFNR, DF Muresanu, President of the EFNR, V. Homberg, Vice-President of the EFNR and Secretary General of the WFNR, Leopold Saltuari (Austria) and G. Sandrini, EFNR Past Presidents for the outstanding contributions brought to the development of neurehabilitation and scientific cooperation in Romania.
The first day of the meeting comprised three scientific sessions. The joint EFNR/WFNR presidential session was chaired by V. Homberg, G. Sandrini, and DF Muresanu. V. Homberg started with the obituary of Anna Liese Christensen, who has recently passed away. He also gave an update on physical therapy strategies. DF Muresanu presented the path between neurobiology and evidence-based medicine in neurorehabilitation after stroke. A stimulating discussion about what "proportional recovery" will mean for future neurorehabilitation was carried out by V. Homberg and G. Sandrini.
In the second session Heinrich Binder (Austria) gave a lecture on how spine is more than scaffold, arguing why necessary to include the inspection of spinal column in neurological examination to identify possible problems. L. Saltuari presented the latest updates on Robotic therapy, scientific data and clinical experience. G. Sandrini presented a newly formed panel of experts, put together by the Italian Consensus Conference on Pain in Neurorehabilitation (ICCPN), and discussed the newest trends în motor rehabilitation to o fill the knowledge gap on pain in neurorehabilitation. The second session was concluded by D. Good, who spoke about the present strategies in stroke rehabilitation, as well as about future perspectives. He presented the most important trials that covered the issue of stroke recovery, and also severl approaches for recovery such as as, physical and occupational therapy, virtual-reality programs, TMS and tDCS
In the third session, five lectures were presented. The first was Gelu Onose (Romania) a synthetic approach on endeavors towards systematizing clinical assessment instruments used to evaluate neuromotor/cognitive-functional deficits after traumatic brain injuries, including through the ICF(-DH) conceptual framework. Afterwards, Johannes Vester (Germany) explained the methodological challenges and advances in clinical research within the evidence-based medicine framework. Challenges to rehabilitation of stroke in the elderly were also presented by Gabriel Prada (Romania). In the third lecture, Dana Boering (Germany) spoke about the update in ICU acquired weakness. Further, Kristina Muller (Germany) discussed about the role of rehabilitation on functional neurological disorders in children. The third session ended with Gabriel Prada (Romania) and his lecture about gerontechnology for older stroke patients.
On the second day, the first session discussed topics like: Non-invasive brain stimulation after stroke (Tihomir V. Ilic, Serbia), genetic aspects of TMS-induced brain neuroplasticity in ischemic stroke patients (Alexandru Gasnas, Rep. Moldova), aphasias in ischemic stroke patients (Catalin Jianu, Romania), imaging of acute stroke (Jean Claude Sadik, France). The second session brought forward topics like: neurological rehabilitation of the elderly – between risk factors and prognosis (Adriana Sarah Nica, Romania), Pilates, Tai Chi and Qigong: new attractive methods in management of Parkinson`s disease (Jozef Opara, Poland), the peculiarities in neurorehabilitation of patients with MS (Aleš Pražnikar, Slovenia). This session concluded with Vitalie Lisnic (rep. Moldova) with Clinical and electrophysiological approach to neuromuscular junction disorders. In the third session,  unresponsive wakefulness syndrome and minimal conscious state: from diagnosis to prognosis, rehabilitation and longterm outcome (Andreas Bender, Germany) and vascular epilepsy (Bogdan Popescu, Romania). The forth session comprised various topics regarding the role of arts in neurorehabilitation (Vida Demarin, Croatia), targeted nutrition, complex monitoring, and specific therapies in early neurorehabilitation of critically ill patients (Dorel Sandesc, Romania) and the classification and clinical manifestations of ischemic circulatory disorders of the spinal cord (Mihail Gavriliuc, Rep. Moldova).
The last day, sessions included talks about vascular remodeling and changes in the neurovascular unit in tissue recovery to ischemic injury (Gregory del Zoppo, USA), how to assist brain in successful recovery after stroke from pre-clinical work experience (Jaroslaw Aronowski, USA), Biological agents: a new avenue for pharmacology in neurorehabilitation (Alla Guekht, Russia) and Placebo, Nocebo and no treatment (Wolfgang Grisold, Austria). G. del Zoppo and O. Bajenaru presented  topics like: post-stroke neurorehabilitation – an essential component of secondary prevention,  Rare neurologic disorders in the context of rare causes of stroke (DF Muresanu) and Leadership in medicine and management (Axel Kohlmetz, Auzstria). The last session was dedicated to stroke management, covering topics like women and stroke (Valeria Caso, Italy), the current status and future developments of the Romanian Stroke Registry presented by Cristina Tiu, and the registry of stroke care quality (RES-Q) in Republic of Moldova: the first nation-wide data on stroke care quality (Stanislav Groppa, Elena Manole, Rep. Moldova).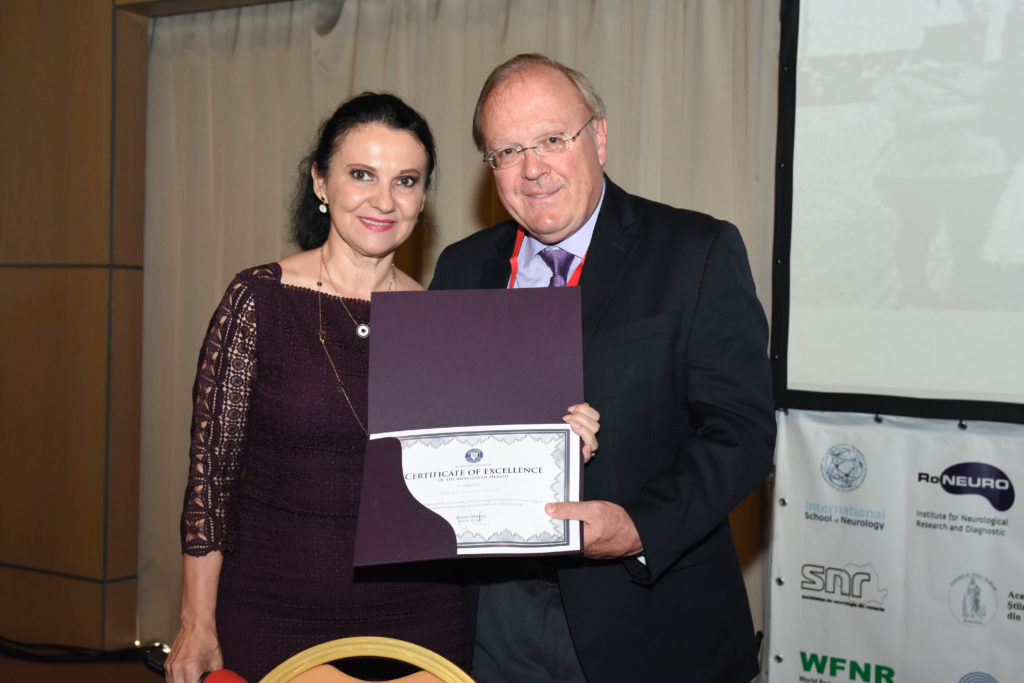 For furher details about the educational program, please follow this link.