During 2017, EFNA continued their patient empowerment work through their Training Initiatives for Neurology Advocates (TINA), which grew to incorporate one pan-European event in Brussels and three national workshops in Bucharest, Valencia and Warsaw. These covered a wide variety of topics relevant to the respective patient communities in each country.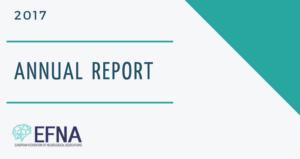 Other keynote projects including the MEP Interest Group on Brain, Mind and Pain (jointly coordinated with Pain Alliance Europe [PAE]) and the Together Under the Umbrella awareness campaign also continued.
Three meetings of the MEP Interest Group took place in 2017. These events profiled ten disease areas, were attended by over 150 stakeholders from key partners and institutions, and had the active involvement of 15 European Policy Makers (from the European Parliament and European Commission).
EFNA participated in various other activities aimed at boosting the organisation's advocacy evidence base. These included EFNA involvement in the Value of Treatment project, led by the European Brain Council and the EFNA-led project to map neurology patient engagement in HTA.
In accordance with EFNA's commitment to good governance, 2017 was a year in which considerable time was devoted to working on internal governance and external communication.
A new constitution and set of associated by-laws were produced, alongside the update of various policies and procedures. This work was kicked-off by a workshop for EFNA members on Governance and Transparency, held in May 2017.
More detail on all these activities can be found in the EFNA Annual Report 2017.
---
Upcoming EFNA events:
EFNA will hold a TINA workshop in Bucharest this October on 'The Future of Healthcare in the EU: Towards more sustainable healthcare organisations'.
In November a special workshop will be held in Brussels for young neurology patients (aged 18-35) – 'Patient Advocacy in the Digital World'.
Finally a joint EFNA-EAN event will take place in December. More on this exciting joint meeting to follow next month!