EAN and Wiley want to know how neurology is making a difference, and how it has inspired you.
Tell us and you could win an iPad Pro!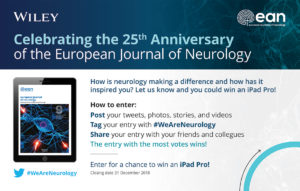 All you need to do is post your tweets, photos, videos and stories here, tag your entry with the hashtag #WeAreNeurology, then share your entry with your friends and colleagues, and the entry with the most votes wins an iPad Pro
The closing date 31 December 2018.
Thank for your contribution and we look forward to reading your stories.
Good luck!