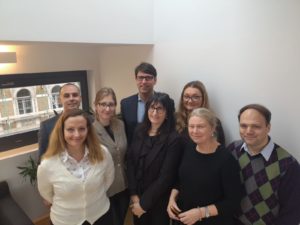 Dear EAN members, dear readers,
at the end of this year it is with great joy that we address to you these few lines.
In this current EANpages issue, Prof. Fazekas has nicely highlighted that the EAN activities are expanding and becoming more and more relevant in the European landscape. EANpages and the EAN website have witnessed, supported and fostered this vibrant development.
It has also been wonderful to see the enthusiastic contribution of many of you to EANpages and neurology updates on the website, testimonial of the energetic life of our society.
On behalf of the whole e-Communication, we would like to thank you.
We believe that the new year 2019 will be even richer and full of new exciting achievements and horizons for EAN.
Please, do not hesitate to send us your comments and news that you want to share with your colleagues: EANpages is your home space! We anticipate that EANpages will have a new Editor starting in June 2019 since the current Editor has been recently elected as EAN Treasurer.
The whole EANpages and EAN website Editorial Board wishes you and your families
MERRY CHRISTMAS and HAPPY NEW YEAR!
Elena Moro, EANpages Editor,
Tim von Oertzen, EANwebsite Editor,
and the E-communication Board