EAN Autumn School
Loutraki, Greece
November 8-12, 2018
In November 2018, the first EAN Autumn School took place in Loutraki, Greece. A remote destination not too far from Athens airport was chosen to gather 60 Neurologists in Training and 9 faculty members.
The EAN Autumn School is similar to the Spring School format, but also different, since in the morning a condition was presented, and, in the afternoon, different diseases were introduced that can be manifested by these symptoms. For the afternoon sessions, participants were divided into 3 groups with 20 persons in each group and interactive hands-on case-based courses were organised. A great innovation is that the local speakers brought their patients. Altogether 4 patients came, and our participants were able to talk to and examine them. It was a great experience for all participants, but also the patients said that they enjoyed being able to contribute to the education of neurologists and they were thankful that neurologists in training are so interested in learning.
Each day focused on how to approach a specific clinical syndrome in order to reach diagnosis and treatment. This way, participants learned like in a real-life setting, how to deal with a given clinical situation.
The following syndromes were presented:
Day 1: Episodic loss of consciousness
Day 2: Gait dysfunction
Day 3: Tremors (in co-operation with MDS-ES)
Out of 120 applications, 60 participants were selected from 25 countries, namely Albania, Algeria, Austria, Belgium, Czech Republic, Denmark, Finland, Georgia, Greece, Hungary, Iceland, Israel, Italy, Latvia, Lebanon, Lithuania, Moldova, Poland, Portugal, Romania, Russia, Sweden, Turkey, Ukraine and UK.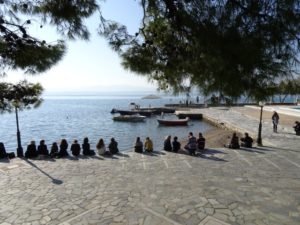 The official start was Thursday evening when all participants were welcomed by Elissavet Kapaki, representative of the Hellenic Neurological Society, Professor Hannah Cock, former EAN Education committee chair, and Maria Stamelou, local organiser and Autumn School taskforce member.
On day one, Anastasios Bonakis (Greece), Hannah Cock (UK) and Tim von Oertzen (Austria) spoke on "episodic loss of consciousness", and in detail on approach to differential diagnosis, the utility of MRI, EEG and Video-EEEG as well as psychiatric and psychological assessment. The first afternoon workshops combined a case workshop on EEG and MRI, and case-based sessions on episodic LOC, including seizures, syncope and psychogenic non-epileptic seizures. During the first patient session, participants could observe key features in history, and then hear the patient perspective on epileptic attacks.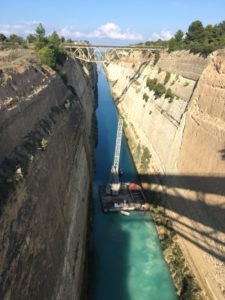 After the first full day, all participants and speakers were invited to a boat trip through the Corinth Canal, an amazing 6.4 kilometres long and only 21.3 metres wide waterway, carrying ship traffic between the western Mediterranean Sea and the Aegean Sea, cutting through the Isthmus of Corinth that connects the Peloponnesian peninsula to the Greek mainland, thus effectively making the former an island.
Afterwards, the evening ended with an entertaining Greek celebration with delicious food, dance and music, even one of the participants sang a few songs and all very delightedly danced along.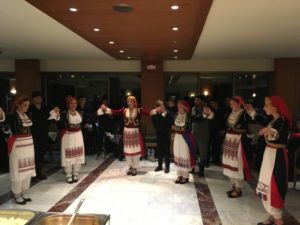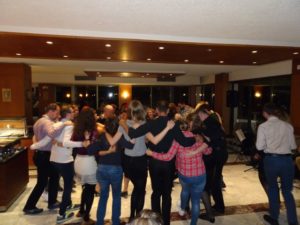 On day two, the main topic and condition the speakers lectured about was "gait dysfunction", and Espen Dietrichs (Norway), Leonidas Stefanis (Greece) and George Koutsis (Greece) informed the participants on approach to clinical diagnosis, Gait apraxia, investigations and small vessel disease versus normal pressure hydrocephalus, and cerebellar ataxias, their classification and genetics. The afternoon workshops focused on falls, including bone health and prevention strategies, on illustrative cases in radiology, and a patient presentation suffering from ataxia.
The evening was networking and education likewise, but in a more leisure surrounding: a scientific dinner. The RRFS talk was a good kick-off, and Vanessa Carvalho could inform everybody on how to start their career as junior neurologist in Europe, what grants and possibilities there are available. In between the menu-courses, the lecturers showed educative cases, and in the end Professor Dietrichs even prepared a quiz, where all could participate via their mobile phone.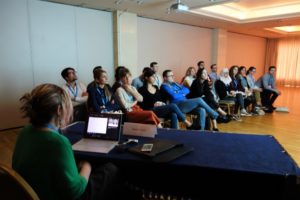 The last day was co-organised by the Movement Disorders Society-European Sections (MDS-ES) and focussed on Tremors. Carlo Colosimo (Italy), Maria Stamelou (Greece) and Joaquim Ferreira (Portugal) went into detail on classification and criteria of tremors, differential diagnosis of tremor disorders and treatment of tremor disorders. Afternoon workshops were dedicated to tremors: phenomenology and examination, differentiating tremors – a practical approach with patient involvement and cases of rare tremor disorders
During these three days, the participants had the chance to learn in small groups about special cases, and each day a patient was invited to present the condition.
After a successful exam, all participants received their certificate of attendance.
The first EAN Autumn School ended in a leisure dinner and a relaxed good-bye party.
A short version of the programme can be found here.
If you are interested in participating in one of the EAN Schools, you do now have the opportunity to apply for the EAN Spring School! Deadline is 31 January 2019. More information can be found here.