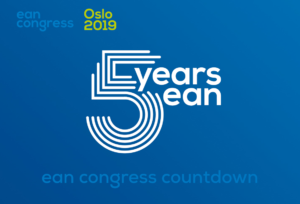 June 2019 marks the fifth year since the foundation of the European Academy of Neurology (EAN) with the purpose of promoting excellence across the region.
Established in June 2014, through the merger of the European Federation of Neurological Societies (EFNS) and European Neurological Society (ENS), EAN has served to unite neurologists and neurological societies across Europe over the past five years. Bringing 47 national neurological societies, as well as hundreds of additional individual members, together under one roof has served to strengthen the discipline and science of neurology in Europe. EAN has grown and developed over these five years to provide vital opportunities for scientific exchange and continued learning for its more than 45,000 combined members.
Starting with its first congress in Berlin in 2015, the EAN has been bringing together more than 6,000 delegates from across Europe and the world each year, comprising clinicians, researchers and industry related to neurology. Each annual EAN Congress takes place in a different European city, and from June 29 to July 2 this year, the fifth congress will take place in Oslo, Norway
Speaking shortly after EAN's foundation in 2014, current EAN President (then Vice President), Prof. Franz Fazekas, stated that "building the EAN is a unique opportunity to strengthen the role and visibility of our specialty in patient care and clinical science throughout the continent and beyond."
As well as organising its annual meeting, the EAN also facilitates a 'constant congress', ensuring all its members can collaborate and network both online (via their My EAN online account) and offline wherever in the world they happen to be based. Already at the forefront of innovations in medical conferences, the annual EAN congresses are live streamed online for those who cannot travel to the event and remain available to view online afterwards for members. EAN is committed to introducing further innovations to enhance collaboration and exchange, and its members can look forward to even more benefits in the years to come. EAN has also taken steps more recently to improve communication with its members, with a new, fresh and good-looking design for its online news and email newsletter service EANpages. With new contents, more flexibility, more interaction, more participation, and more readers, the new structure allows for more visibility to be given to the news from EAN and its members and now also includes news from neurology around the world, as well as news from the European Community and allied societies.
In support of its members, EAN also provides a wealth of educational and professional content to its members. This includes access to its official peer reviewed publication, the European Journal of Neurology, as well as research papers and guidelines. EAN actively serves its members, by bringing them the latest developments of relevance via regular newsletters, supporting them through grants, or providing a range of educational opportunities, to name just a few of the membership benefits for neurologists.
Enhancing excellence in neurology and promoting it to the wider world are key missions of EAN. The last five years have seen it establish vital resources for its members in order to realise these goals. Any professional association is only as strong as its members, and therefore EAN can look forward to a bright future as its members work together for the betterment of neurology, ultimately leading to improved patient care and a reduced burden from neurological disorders across Europe.
In the build-up to its fifth anniversary and congress, EAN invites all its members and congress delegates to join in the celebrations at EAN 2019 in Oslo. In recognition of their loyalty and support over the past five years, each of the more than 300 Full EAN Members, who have been members since 2014, will receive a personalised EAN Anniversary football shirt with their very own name on it, so they can proudly show the world they are a vital part of the EAN Team. There will also be special anniversary mugs available at the EAN Congress, as well as a wall of fame displaying portraits of loyal and active EAN members.
The Opening Session on June 29 at 18:30, will reflect on the success of EAN of its past years while charting its vision for the future, including a presentation from Nobel Laureate Edvard Moser.
To experience the excitement, be sure to follow to EAN's Twitter, Facebook and Instagram accounts where a special countdown to the five-year anniversary will be shared each day.
If you're not yet a Full EAN member, join online now to avail of the full range of membership benefits and be part of our continued success into the future, or you can stop by the HOME area of the EAN Booth during the congress in Oslo to join up in person. If you're already an EAN Full member be sure to visit the EAN Booth to renew your membership so that you continue to benefit from our services while supporting our efforts to promote excellence in neurology.
Click here to view membership benefits and join