First International Parkinson and Movement Disorder Society (MDS) atypical Parkinsonism Teaching Course
by Vanessa Carvalho, EAN RRFS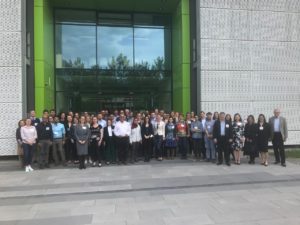 From 17-18 May the first Atypical Parkinsonian Syndromes Course took place in Munich. The course, which was  supported  by MDS,  was organized by Professor Günter Höglinger, from Munch Technische Universität and Professor Gregor Wenning from Innsbruck University.
The course was attended by neurologists from over 20 countries worldwide, with a young, interactive and eager to learn audience.
While the first morning was focused on introducing the clinical entities that compose the "Atypical Parkinsonism spectrum", the afternoon was devoted to the development of clinical skills, such as the examination of tremor, bradykinesia or dysautonomia. The first ended with a social dinner, where students could network with the faculty and each other.
On the second day of the course, the clinical skills developing sessions continued, this time focusing on sleep disorders, cognition and imaging.  In the last afternoon, students had also the chance to examine and interact with patients with atypical parkinsonian syndromes, with guidance of several renown Movement disorders experts.
The first MDS Teaching Course on Atypical Parkinsonism ended with final remarks of the organizers, leaving the possibility of a second edition.