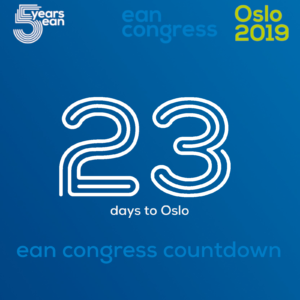 June 2019 marks the 5th year since the foundation of the European Academy of Neurology! It is also the month of the 5th EAN congress. In honour of EAN's 5-Year Anniversary. on 3 June we have launched a congress countdown on our social media channels and once a week on EAN pages. Every day, there will be a post with tips and advice for the 5th EAN congress in Oslo. Seasoned EAN congress participants are encouraged to share their advice for first-timers in the comments. All participants will enter a draw, to win the famous EAN Brainie!
Follow us on Facebook, Twitter and Instagram for all tips and updates.
Challenges for women in neurology – a lunchtime networking session: Sunday, 30 June 2019, 13.00-14.30h, Room Amsterdam
Bring your lunch and listen to 3 outstanding women and how they overcame the challenges they had to face during their academic and hospital career development in neurology.
This event is mainly directed to female neurology residents and female neurologists at the beginning of their career, but certainly men are more than welcome to attend.
Understanding the challenges that women face is important for their male colleagues, mentors and chiefs.
Find out more here.
Register now and celebrate 5 years of excellence with us in Oslo!