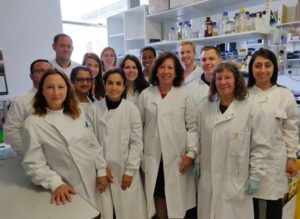 I am really grateful to the European Academy of Neurology for having granted my training research fellowship at the Department of Clinical Neurosciences of the University of Cambridge. During the final year of my residency in Neurology at the Sapienza University of Rome, I had the great honour to join the research group of Professor Mariagrazia Spillantini, who discovered – in 1997 – the presence of alpha-synuclein in Lewy bodies, the pathological hallmarks of Parkinson's Disease.
I started studying alpha-synuclein for the thesis of my master degree in Medicine. Since that moment, this protein has become an important and unreplaceable part of my life and thanks to alpha-synuclein, I had fascinating human and scientific experiences all-over the World. I continued to work on alpha-synuclein for my PhD in Neuroanatomy, traveling between Rome and Beijing and then, during my residency in neurology, I tried to transfer the knowledge of basic science to clinical practice, through the study of alpha-synuclein in saliva as a possible biomarker of Parkinson's Disease. For all these reasons, was very exciting and emotional for me to work in the place where the story of alpha-synuclein began.
During my fellowship, I had the opportunity to deepen the studies regarding alpha- synuclein in saliva as a potential biomarker for Parkinson's disease. In particular, with the help of the research group coordinated by Professor Spillantini we have developed a method to study the presence of alpha-synuclein aggregates in saliva, through sensitive aggregation assays, such as "Protein Misfolding Cyclic Amplification" and "Real-Time Quaking Induced Conversion".
The application of these assays has allowed us to achieve promising results, laying the bases for a possible application of salivary alpha-synuclein in the molecular diagnosis, as well as in the follow-up and stratification of patients affected by Parkinson's disease. My experience at the University of Cambridge has been a stimulating scientific opportunity, which allowed me to broaden and consolidate my knowledge on neurodegeneration but, above all, transmitted me the importance of a rigorous scientific method and an evidence-based reasoning. I was supported daily in the discussion and rigorous interpretation of my data, but I was also encouraged to look beyond and learn new technical and theoretical skills, in order to improve the knowledge in my research field. Therefore, I want to thank my supervisor, Prof. Mariagrazia Spillantini and all the members of her lab, with a particular mention for Dr. Aviva Tolkovsky, Dr. Laura Calò and Dr. Michal Wegrzynowicz, with whom I have shared, every day doubts, ideas and passionate scientific discussions.
However, these months in Cambridge have not only been a great scientific experience, but also a stunning cultural and human opportunity. Cambridge is a lovely and beautiful city, embraced by a green mantle of trees and meadows and surrounded by a marvellous sky, populated by an ocean of pink clouds, during the long summer evenings. Thanks to an international and open environment, I was able to join stimulating cultural discussions, interacting every day with people involved in different scientific and cultural fields and sharing with them new knowledge and new life experiences. But above all I had the chance to meet and know many wonderful people from all over the World, who became my friends and I hope to keep with me, along the journey of my personal and professional life.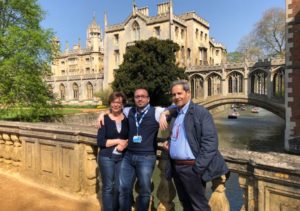 by Giorgio Vivacqua