SILENTLY LOSING THE BRAIN – The enigma of small vessel disease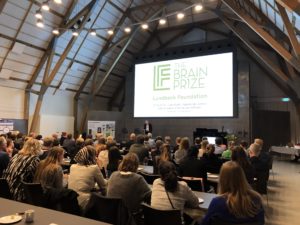 Come to Copenhagen for the next Brain Prize Meeting in November 2019.
With international keynote speakers, including the 2019 prize winners, the Lundbeck Foundation Brain Prize Meeting aims to bring a broad range of researchers to discuss why small vessel disease has emerged as a major contributor to dementia, migraine and stroke worldwide.
The Brain Prize 2019 was awarded to Marie-Germaine Bousser, Hugues Chabriat, Anne Joutel and Elisabeth Tournier-Lasserve for their groundbreaking research on the clinical, genetic, cellular and molecular basis of a brain syndrome, known as CADASIL. Their achievement is a beautiful illustration of a clinical observation leading to fundamental discoveries about brain disease with implications for the understanding of causes of dementia, migraine and stroke.
The mechanism and methods used to study CADASIL have helped pave the way for investigating small vessel diseases in general, and in particular, cerebral small vessel diseases – the basis of which has emerged as a major contributor to e.g. dementia worldwide.
Therefore, this year's Brain Prize Meeting will discuss the newest development in experimental studies of the brain microvasculature and myelin biology, along with emerging pre-clinical, clinical and neuroimaging findings.
The meeting is open to junior and senior scientists in the field of basic as well as clinical neuroscience. Registration is online on a first come first serve basis – priority will be given to participants submitting an abstract.
To learn more and to apply for attendance please go to:
https://www.lundbeckfonden.com/the-brain-prize-meeting/