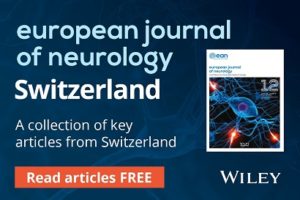 Please find below recent articles from Swiss authors that have been published in the European Journal of Neurology.
 A consensus review on the development of palliative care for patients with chronic and progressive neurological disease by D.J. Oliver, G.D. Borasio, A Caraceni et al.
RYR1-related myopathies: a wide spectrum of phenotypes throughout life by M. Snoeck, B.G.M. van Engelen, B. Kusters et al.
Gait phenotype from mild cognitive impairment to moderate dementia: results from the GOOD initiative by G. Allali, C. Annweiler, H.M. Blumen et al.
European consensus for starting and stopping enzyme replacement therapy in adult patients with Pompe disease: a 10-year experience by A.T. van der Ploeg, M.E. Kruijshaar, A. Toscano et al.
ECTRIMS/EAN guideline on the pharmacological treatment of people with multiple sclerosis  by X. Montalban, R. Gold, A.J. Thompson et al.
Efficacy of pallidal stimulation in isolated dystonia: a systematic review and meta-analysis by E. Moro, C. LeReun, J.K. Krauss et al.
Anti-contactin-associated protein-2 encephalitis: relevance of antibody titres, presentation and outcome by C.G. Bien, Z. Mirzadjanova, C. Baumgartner et al.
Early predictors of refractory status epilepticus: an international two-center study by R. Sutter, P.W. Kaplan, S. Marsch et al.
Time course of clinical and neuroradiological effects of delayed-release dimethyl fumarate in multiple sclerosis by  L. Kappos, G. Giovannoni, R. Gold et al.
Effect of delayed-release dimethyl fumarate on no evidence of disease activity in relapsing-remitting multiple sclerosis: integrated analysis of the phase III DEFINE and CONFIRM studies by E. Havrdova, G. Giovannoni, R. Gold et al.