New team of European Commissioners, new hope for research and healthcare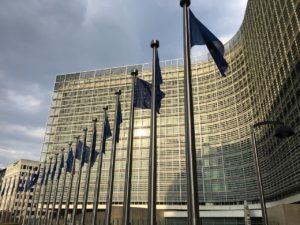 This September, European Member States nominated their picks for the College of Commissioners, also known as the European Commission President's team. Each Member State needs to nominate one Commissioner, which then are assigned a portfolio, a department, by the President-elect and then heard and confirmed by the relevant committees in the European Parliament.
The new President-elect of the European Commission, Ursula von der Leyen (Christian Democrats, Germany) chose Bulgaria's nomination, Mariya Gabriel (EPP) for Commissioner to take up the portfolio labelled "Innovation and Youth". Despite the unfortunate riddance of "research" in the title, this portfolio does deal with research, but also with education and innovation in general. The portfolio includes managing Horizon Europe, the new research funding mechanism of the EU.
Mariya Gabriel has been Commissioner dealing with the Digital Economy and Society portfolio since 2017. Under that scope of work, she invested great effort and energy to foster digital education and research across the EU. Provided the European Parliament confirms her appointment after the hearing (30 September), she will take over the management of the proposed 94.1 billion euros of Horizon Europe. In her "mission letter" to Gabriel, von den Leyen, calls on her to "ensure sufficient investment flows to disruptive research and breakthrough innovations" and to "ensure that research, policy and economic priorities go hand in hand. This will involve working with Commissioners across the entire range of EU policies, contributing to the new industrial strategy and making the most of the new thematic missions within the future Horizon Europe programme." Von den Leyen also wants her to "ensure the full implementation of the European universities initiative, initiated by current Education Commissioner, Tibor Navracsics.
This nomination and portfolio could mean that some files in the education and research areas would overlap and services in two different Directorates Generals in the Commission – Research&Innovation and Education – would merge. This idea has been refuted by Jean-Eric Paquest, the director general of DG Research. He instead confirmed that the directorates responsible for education and research will be kept separate.
Stakeholders from different backgrounds generally welcome the nomination of Gabriel, considering her genuine interest in these topics and solid track record at DG CONNECT.
Commissioner President-elect picked Stella Kyriakides as Health Commissioner, the nominee from Cyprus. In her mission letter, von den Leyen mostly focuses on ensuring "the supply of affordable medicines", to "effectively implement the new regulatory framework on medical devices" and she wants her to "put forward Europe's Beating Cancer Plan to support Member States to improve cancer prevention and care and should be in close link with the research mission on cancer in the future Horizon Europe programme."
Stella Kyriakides is a clinical psychologist by profession and a fierce (cancer) patient advocate at Europa Donna, having had experience with breast cancer herself. She served as the first Cypriot national and third woman President of the Parliamentary Assembly of the Council of Europe. She worked as clinical psychologist in the Cypriot Ministry of Health between 1976 and 2006 in the department of Child and Adolescent psychiatry.
Her nomination shows a significant improvement for patient organizations who cheered for her new position. The head of European Patient's Forum in Brussels, Usman Khan welcomed her as "someone who has direct experience of working with the patient advocacy community and who has a track record of having brought together the patient, clinical and health policy perspectives." He "hopes that her experience and knowledge will help to ensure that health forms a central part of the new Commission's agenda and that the patient perspective is central to how that agenda is delivered."
Unfortunately, brain health is not (yet) her main focus, but considering her background as a clinical psychologist, the topic should not be far from her interests. A joint effort with professional organizations and patient associations could put brain and neurology on the map again.
The hearing of the selected Commissioners by the relevant Committees in the European Parliament will take place from 30 September until 8 October, with Mariya Gabriel having her hearing on Monday, 30 September while Stella Kyriakides on Tuesday, 1 October. The hearings will be live streamed and can be followed here.