69th Session of the WHO European Region
Copenhagen, Denmark – 15 to 20 September 2019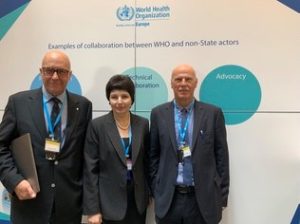 Health ministers and high-level representatives of the 53 Member States of the WHO European Region, as well as partner and civil society organizations, will take part in the 69th session of the WHO Regional Committee for Europe. The session took place at UN City, Copenhagen, Denmark, on 16–19 September 2019
In cooperation with the World Federation of Neurology, a joint statement WFN-EAN was prepared.
The joint statement addressed point 5a of the meeting agenda:
Prof. D. B. Vodušek, Chair of the EAN European Affairs sub-Committee took part in the meeting as EAN delegate.
He read and presented the statement in an oral presentation.
The full text of the statement can be found here.
During this session, Dr. Hans Kluge was elected Regional Director for the WHO European Region.
More on Dr. Hans Kluge can be found here.
Videos of the statements presented by the different organizations can be viewed here.